The keybiner is a refined version of the carabiner, and has a hook attachment that can hold on to your cloths. Keybiner vs keybar review will give you a different outlook on modern key chains.
Data collecting is no easy job, but I like the fact that I'm not inbound. We get to work in different regions at a time which means more time outside working and socialising. If you ask me, the one thing that annoys me about working outside is losing my set of keys in strange areas. I have lost so many keys and now I have decided to take action, I know I should have done it sooner.
| | | |
| --- | --- | --- |
| Comparison | Keybiner | Keybar |
| Capacity | 14 keys | 28-12 keys |
| Weight | 1.6 ounces | 1.6 ounces |
| Material | Aluminium | Aluminium and stainless stonewashed steel |
| Length | 6.2 inches | 88mm |
| Accessories | Bottle opener, screw driver , pry bar, file, carabiner | Includes loop to install extras |
| | Check the price | Check the price |
Aesthetic
These two key holders look completely different. The keybar has a rectangular body with rounded edges. It is smooth all round and keeps the keys intact to prevent any scratching or tearing by the key edges.
The keybiner has a unique appearance; it is shaped like a hook that is heavy on one side. Despite the shape, you can attach your keys on two installed screws. This compact shape keeps the keys organised and compact al the times.
Capacity
If you have endless keys that you keep adding to your chain, the keybar is the perfect fit. It has the capacity to hold u to 12 keys but with extension you can install up to 28 standard sized keys.
The keybiner on the other hand will hold 14 keys. The manufacturer has provided custom hardware and screws to help reach that number.
Material
The keybar is made of stonewashes steel and good quality aluminium. The aluminium bots are easy to handle when it comes to adjustment and they do not loosen fast when keys are attached. This material definitely makes the keybar strong and durable.
The keybiner is made entirely of aluminium. Even though these two different products come in different shapes and design, they still weigh the same before any key is attached.
Accessories
Tools like the screw driver, bottle opener, file, pry bar and some wrenches have been included by the manufacture to make the keybiner more convenient and useful. They may sound like paradise, but it actually makes it harder to access the key when you have attached too many accessories.
Accessories are not included in the keybar, but there is a loop attachment where you can include your desired accessory and car keys.
The keybiner features a bottle opener, screw driver, pry bar, file, screw it driver and several wrenches. It is said to e a refined version of the carabiner. It has a unique design that is easily portable which makes it a great everyday tool. The retention system of the keybiner allows you to keep your keys neatly organised and in place. It also reduces the noise jingling when you are going about your day. The edges of this holder are well rounded and keep the key edges from cutting or causing any damage to your clothing. This aluminium key holder is strong and durable.
Pros
Easily portable
The hook attachment reduces its chances to get lost
Cons
Accessing some of the keys will be difficult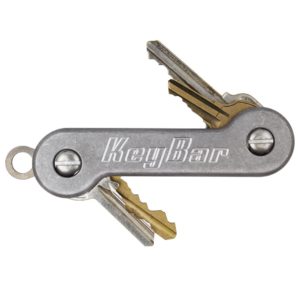 This key holder can amazingly accommodate 28 standard keys when the extension screw is combined.  Normally, it can hold 12 standard keys when the standard screws are attached. It is an instant key organiser that minimises the jingling noise when you are moving.  The design is perfectly made to control the sharp edges of any keys from breaking holes into your clothes and bags or scratching your skin.
Keybar is made from stainless and rust free steel plus high grade aluminium, making it unbreakable and long lasting.  This design is ergonomic to keep it less bulky and easier to move around with even when you install your key collections.  It is pocket sized and can organise your keys perfectly making them easier to locate.
The pros
Perfect organiser for your keys
You can arrange various types of keys
The cons
It is quite expensive
Screws may loosen overtime
The verdict
I realised that with the keybiner, I will have a hard time locating the right key in time despite it having a very secure hook that I can attach to my pocket or belt loops. The keybar on the other had is more convenient and I can clip it on my pocket and locate it every time I am working outside.
FAQS
Does the keybiner work with electronic keys?
They work normally with electronic keys as they would with any type of key. try installing it on the loop instead of squeezing the electronic key into the keybiner with the rest of the keys.
Will keybar come with a fob for the larger keys?
The keybar comes with a fob that will hold your larger keys in place. You can also attach the larger keys to the loop on one end of the keybar.
What is the maximum length for a key to fit in the keybar?
The keybar will accommodate smaller keys. Anything larger than 80 mm will mess with the key arrangement. The maximum length of the key that fits will depend on your keys unique size.
Will you have to drill a hole in your keys to fit in the keybar?
The keybar comes with a standard screw that will fit through the holes of almost all of your keys. It means that you do not have to drill holes into your keys.
What is the perfect length for a karabiner key?
Most standard keys will fit into the keybar pretty well. Be careful when you are installing longer keys because they might just mess up with the screw making it difficult to deal with the other keys.