The keydisk min is has a sleek complex curvature that conceals keys on both sides to make the less bulky and disorganised.  Keysmart VS Keydisk mini provides a unique comparison to help you make up your mind.
Just recently, I realised that people do not carry key chains anymore like I do. Come to think of it, I have lost so many important keys. I have never thought of changing things up or even buying a different type of keys only because I always get key chain gifts during holidays, from my family and even at stores. My only motive is to find a key holder that is pocket friendly and will accommodate all my keys while keeping them compact at the same time.
Differences between Keysmart and Keydisk mini – How do they compare?
| | | |
| --- | --- | --- |
| Comparison | Keysmart | Keydisk |
| Capacity | 14 keys | 10 keys |
| Weight | 3.2 ounces | 0.64 ounces |
| Material | Rust free Stainless steel and aluminium | Anodized aluminium |
| Length | 76mm | 76mm |
| Accessories | Has an extra loop for bigger keys or accessories | Car fob attachment loop |
| Maximum length key | 80mm | 100mm |
| | Check the price | Check the price |
Keysmart VS Keydisk mini – a descriptive comparison
Aesthetic
Both have unique designs meant to keep your key stacks intact and organised at all times. They keysmart has an overlapping system from both sides of the holder while the keydisk mini has a unique design where the keys face towards the center but don't overlap.
Capacity
When expanded, the keysmart has the ability to accommodate up to 14 standard size keys and the keydisk mini will only take up 10 keys of the same size.  This makes the keysmart perfect if you have countless keys or are looking to expand
Material
The keydisk is made of anodized aluminium and the keysmart holder is made using a combination of stainless steel and high grade aluminium. Because they are both metallic, it is a win- win situation. They are durable and wont damage due to pressure or accidental drops.
Accessories
The loop on one side of the keysmart key ring is for attachment of bigger keys, car keys, and other accessories like torches and openers.  Keydisk mini has extenders to hold more keys, a car forbs attachment loop, a bottle opener and a carabiner clip where you can attach the belt loop.
Weight
Keysmart is much larger is weight compared to the keydisk mini even when the keys are not assembled yet. Without any keys attached, the keysmart weighs more than twice the size of the keydisk. This makes the keydisk easier to carry around in your pocket.  The shape of the keydisk will restrict you from carrying it in your pocket. It had sharp edges that will poke you and make it uncomfortable to carry around. if you are looking for a more pocket friendly pill then
It's time to bid goodbye to the jingle of your keys with the keysmart key holder. It is designed to keep them organised and tangle free and save you more time when opening the lock. You don't have to worry about your bunch of keys pocking you through your pocket or pocking holes into your clothes and bags when you have the keysmart; it is designed to conceal the sharp edges of your keys.  It can accommodate 14 standard size keys that are 80 mm or less in size.  The loop attachment offers free space for bigger keys like car keys.  The high quality stainless steel and aircraft aluminium makes it strong and durable. The ergonomic design and Swiss style makes it ultra light even when your key collections are added.
Pros
You won't need to tighten the keys after a while
Easy to install your keys
Cons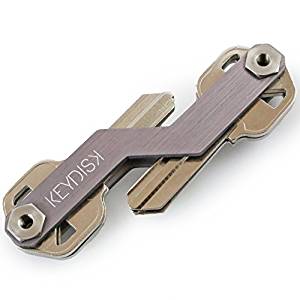 Key disk mini is small and designed to keep your keys neatly organised. The size can fit your pockets and will lessen the bulk of a normal key holder. Uncomfortable and sharp keys in your pocket will no longer be an issue; the design keeps your keys compact and your clothes and bags safe.
It is easy and simple to assemble and can accommodate up to 10 of your regular keys. If you need extra space, you can get the custom key extender. It comes with a custom fob holder than double up as a bottle opener.  It can also hold key chains, car keys, Layard and key ring.
Pros
Easy to assemble
Makes keys organised and less bulky
You won't need to re-tighten the bolt
Cons
The fob attachment is not straight
The verdict
This was a hard decision to make, especially because they are two different designs and both seem to function better than my simple keychain. Getting both key holders may not have been the wisest decision, but at least I have a back-up for when I lose one; which I do not think is going to happen soon.
FAQS
How many keys does the Keydisk hold?
You will be able to carry upto10keys on the keydisk set. If you want to carry more keys, you will have to buy extender pieces.
Can you use it with a key fob holder?
You can use this key organizer with a key fob. The key fob is compatible enough to be used as a key holder which will pass through TSA points without having to remove it first.
Will keydisk fit in a standard wallet?
If you are considering putting the whole key holder on your wallet, it will not fit. It will be bulky and thick especially with the keys on it.
How do you use it's washers?
The washers will enable you keys to fit in your pockets easily. You can use them the way you want. Either put them between each key or use none at all.
Where can one purchase the washers?
When buying a washer you should always make sure they are similar in regarding size as the ones that came with the original key holder. You can purchase one at any local store