The Schlage connect has an illumination that makes I easier for you to spot the screen. Check out the Schlage Touch vs Schlage connect review for a Voice control lock.
I suffer from partial blindness, but have been able to live with my condition without too much help. I can see, although my eyesight will continue to decline over time. In the past year, I have noticed drastic degradation of my ability to see well. I often have trouble getting into my home because the locks require too much of me, visually.  I needed a change. When I went to a friend to understand my options, he introduced me to smart lock systems that can be controlled using my voice. The Schlage BE375 Touch Camelot Keyless Deadbolt vs Schlage sense comparison helped make it easier for me to get home.
What are the differences between Schlage BE375 Touch Camelot Keyless Deadbolt vs Schlage sense? How do they compare
Schlage BE375 Touch Camelot Keyless Deadbolt vs Schlage sense – A Detailed Comparison
Design
Everyone likes to mix and match everything in their home to make it more stylish, if you like that then you will appreciate the shape and varieties of colors of the Schlage connect. You can get it in a nickel, aged bronze, matte black or satin chrome design. It comes with a set of matching door knobs and some other accessories.
The Schlage touch is equally as stylish and comes in a variety of colors as well. The colors include; matte black, aged bronze and satin nickel. You can get each model in a fancy Camelot trim or just a basic clean trim.  The keypad on the century trim is smudge resistant and protects from authorised access through pattern and code guessing.
Performance and compatibility
Schlage sense works well with IOS devices that range from the 8.4 makes and higher. It can connect to your apple HomeKit using an I-pad and I-phone through Bluetooth. The HomeKit gives you a remote control access over the Schlage sense. You can assign a name to your door and the performance of the code is very reliable.
Schlage connect is very easy to use. Like most touch screen deadbolts, it works as a stand-alone deadbolt. You can connect it to a z-wave if you want to use the smart features like auto lock the automatically locks your door within 30 seconds after opening. To unlock it, all you have to do is touch the logo on the lock and enter your codes when the screen lights up. Locking is as easy as pressing the button. It blinks green to show you the lock works and red if it does not.
Security
Both the Schlage connect and touch have ANSI/BHMA Grade 1 rating, which is the highest security rating. They include an alarm system that will ring when anyone tries to tamper with the lock. The beeping will sound during locking, unlocking and forced entry. An anti-pick shield protects against lock tampering on both smart locks.
The Schlage sense is a quality keypad and has the ability to programme close to 30 different access codes. You can link it up with wink, iris and Samsung smart things using the z-wave. You can also use Alexa to operate the door through locking and unlocking using a specific pin.  This connection enables you to remote control the deadbolt when you are far from home. It does this by allowing you to connect it to your smartphone. Using the keypad at night is now easier. It has an illumination that makes it easy for you to spot the keypad.  When there is a forced entry, or the door is unlocked the built in sensors trigger the deadbolt to produce an alert.
The button and twisting knob, located on the inside of this smart lock, helps you control your security alerts. On the outside is a finger print resistant keypad for a keyless entry. While the keypad makes it easy for you, your family, friends and guests to get in, it makes it harder for strangers and unwelcomed people to enter.
Pros
You can programme up to 30 unique codes
The alarm is very loud
 Cons
The features require a Z-Wave smart hub to function
Expensive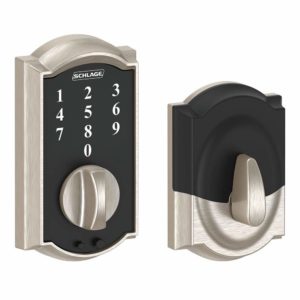 The Schlage touch deadbolt is not motorised, which means that you will not face any problems of alignment and other issues. With the Schlage touch, you have an electronic keyless access to your home; you will be able to navigate using a 4 digit code.  The touch screen is powered by LED lights which makes it easy to access during the night. The Schlage touch is perfect for anyone with a large family. it is a simple and effective way to manage your home security. It has a fingerprint resistant touch on the screen and works against lock bumping.
Pros
Compatible with HomeKi
You can give voice commands using siri
smudge-resistant keypad
Cons
Must use with Apple TV for some of the advanced features
Only has Bluetooth
The bottom line
Every smart lock produced by Schlage turns out to e great with a high security profile. The z-wave compatible system on these deadbolts allows you to access the lock with your phone thus making the locking and unlocking process easier.  Also, you can generate so many codes on these locks.
FAQS
Must I have the apple TV for the Schlage sense to work?
It works flawlessly if you have the latest generations of apple TV. When your phone shares the same I cloud with the apple TV, all you have to do is a voice command for the door to open.
Does the Schlage sense unlock automatically when you approach the door?
Yes, it can open automatically if your phone is detected by the smart lock. You can also use the touch button on the screen, the application or siri if you have apple devices.
Should I rekey before installing the device?
The rekeying will be much easier before you install the device.  The lock works similarly to a basic mechanical lock but the difference is that you can use applications on this device and keep the key for emergency.
Are there any battery issues with the SHLAGE connect and sense?
The battery life will depend on the rightness between the door and the bolt. The batteries will drain quickly if the smart lock's motor has to push it harder; this means that a medium to lose fix will probably last longer.
Can you set up different codes for different users?
It is completely possible.  A subscription on the z-wave systems will let you set different codes for other people and activate them at a specific time.