Washers come in handy when you want to tighten, distribute pressure or prevent leakage in joints, nuts, and axle bearings. This Lock Washer Vs Flat Washer review looks at the main features to look for in lock and flat washers.
I work with all sorts of washers in my steelworks business. At the beginning of my business, I did not put much thought into the quality of washers I used. As long as they tightened a joint then there was no problem. Problems started when the cheap washers started failing in their job. Most washers would break and become useless during assembly. Some washers worked fine until a few months later my clients came back with complaints. I realized that washers, no matter how abysmal they are, play an important role in the final products. I started focusing on high quality lock and flat washers from then.
Differences between Lock Washer and Flat Washer-How do they compare?
| | | |
| --- | --- | --- |
|   | Hilitchi Lock Washer | Vigrue Flat Washer |
| Material | Black Oxide Steel | Stainless Steel |
| Color | Black | Steel |
| Quantity | 280 pieces | 684 pieces |
|   | Check price | Check Price |
 Lock Washer Vs Flat Washer- Detailed Comparison
Material
Both lock and flat washers comprise of various materials. This determines how they perform in various applications.
Flat washers come in materials like brass, stainless steel, or silicon bronze. You can also get them in chrome, bronze, rubber, or zinc-plated steel. Lock washers are available in silicon bronze, stainless steel, zinc plated steel, and galvanized steel. Most lock washers are metallic because of their unique application.
Application
Flat and Lock washers each have their areas of application. Flat washers fit in the space between the fastener and the joining surface. The washers goes on the nut side, bolt side, or on either sides of a faster. Flat washers help distribute pressure evening around the fastener and surface. They also come in handy when needing extra space to tighten a joint. Flash washers also work as spacers when one cannot work with long bolts.
Lock washers only work on the nut side of the fastener. They increase tension when tightening a nut in place. This prevents the nut from wobbling later.
Durability
Washers made from a tough metal tend to last longer than those made of rubber or plastic. Lock and flat washers comprise of stainless steel, silicon bronze, and zinc as the metals used to manufacture them. Metal maintains the integrity of the bond between fastener and surface.
Color
Lock and flat washers may have their original color or painted for aesthetics. Black colored washers help in thermal applications for heat absorption. Chrome colored washers also come in handy where the aesthetics of the product is important. These washers have a glossy finish to meet that purpose.
Hitilchi is one of the top brands that manufacture quality washers. This particular product contains an assortment of lock washers. The box contains over 280 pieces of lock washers organized in various sizes. These are M3 (40 pcs), M4(40pcs), M5(40pcs), M6(50pcs), M8(50pcs), and M8 washers. You also have M10 and M12 lock washers in 40 pieces and 20 pieces respectively.
All lock washers boast of a 65mn grade quality steel. This metal is durable and corrosion resistant. Use these washers to create a strong bond between fastener and surface. You can use them on any material from plastic to stainless steel. Each box of washers comes in different sizes to suit various needs.
Whether you are working in the electric or automotive industry, you will find these lock washers to be helpful. Use the lock washer to exert the needed force between fastener and surface. They will create enough friction to prevent bolts or nuts from rotating and becoming loose.
Pros
Durable material
Assortment of washers
Appealing color
Cons
Size is small in some applications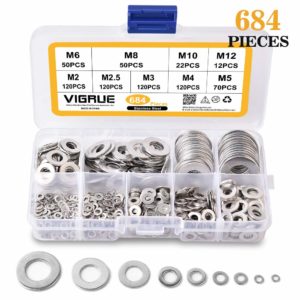 Steel flat washers are useful for a wide range of applications. Whether you are reinforcing electric connections or refurbishing automotive parts, these flat washers from Vigrue will help. This particular pack contains 684 flat washer pieces. You can also buy this washer in two packs containing 684 and 720 washers.
Each pack contains flat washers sort in different sizes. You will get the washers in M2, M2.5, M3, and M4 sizes. Also in the box are M5, M6, M8, M10, and M12 lock washer pieces. These washers boast of 304 stainless steel which is rust resistant. The pieces have a galvanized finish for added longevity. You will find these washes useful in home, industrial, automotive, even shop application.
Vigrue flat washers have a smooth surface which helps reduce friction between fasteners. This prevents loosening of fasteners and dispersion pressure as well. All the washers in this set are compatible with various types of screws. The washers also have a solid bearing surface which prevents bolts or nuts from tearing through the washers.
Pros
Made of durable material
Fits all screw sizes
Available in various sizes.
Cons
Conclusion
We hope you found this lock washer vs flat washer review helpful. Choosing between lock washer and flat washer depends on your current needs. Both washers boast of durable material that improves the bond between bolt and fastener. If I was to choose, I would go with the lock washers because of their inner threading. They grip into the surface of wood or plastic making the toughest bonds with the fastener.
FAQ
Can you use a flat washer and a lock washer together?
Lock washers are compatible with flat washers. Lock washers tend to have a smaller profile compared to bold heads. In such cases, flat washers are best used with bolts.
How do you separate as lock washer from a tooth washer?
First use a flat head screwdriver to probe the lock washer off. If the washer is still stuck, continue probing around its circumference. This should get it off.
How does a star lock washer work?
A star lock washers has teeth that extend outward to burrow into the bearing surface. This can help prevent bolt heads from loosening. Star lock washers are ideal for large screws and bolts.
Are lock washers important?
Lock washers hold nuts and bolts in place. They prevent them from slipping, turning or loosening due to vibration.