Investing in a quality security key provides an extra layer of protection for your data. Read more and discover the best security key to keep your information safe.
As an IT admin, cybersecurity is vital. It is easy to fall prey to identity thieves, hackers, and cyber attacks if I do not employ adequate safety measures. Setting up a quick password is not enough anymore. The ordinary two-step authentication is time-consuming to set up and use as it requires you to access a different medium to confirm and safeguard your password. As such, I find the most secure and convenient form of two-form authentication is by using the best security keys available in the market.
Here is a table outline of the top five best security keys I have come across
| | | | | | |
| --- | --- | --- | --- | --- | --- |
| Model | YubiKey 5C Nano | Thetis Fido U2F Security Key | Kensington VeriMark Fingerprint Security Key | Google Titan Security Key | YubiKey 5 NFC Security Key |
| Weight | 0.16 ounces | 0.8 ounces | 1.44 ounces | ­ | 0.64 ounces |
| Compatibility | Most popular applications such as Google accounts,Microsoft accounts, LastPass, Dashlane, Dropbox, Facebook, Twitter. | Only used in websites which support U2F protocol via Chrome, Windows, Mac OS X, Opera Browser v.40 and onwards, and Linux | Windows Hello, Windows 10, 8.1, 7 | Browsers which support Fido standards | Works with Microsoft accounts, Google accounts, 1Password, Keeper account, LastPass, Dashlane, and all major browsers |
| Hardware Connectivity | USB | USB | USB | USB/ Bluetooth | USB-A |
|   | Check price | Check price | Check price | Check price | Check price |
For a more comprehensive comparison, read on
YubiKey 5C Nano is a high-performance security key which enables fast and strong crypto operations. It provides a safe and straightforward user experience and eliminates account takeovers. Designed for functionality, it contains secure element hardware to protect the cryptographic keys.
To activate, insert the security key into a USB-C port and press the gold ridge. Compared to a simple password, it is four times faster and does not require network connectivity or batteries to operate.
Yubico packages all its YubiKey security keys in a tamper-evident, safety sealed blister packs. The sleek and compact physical construction of this nifty device enables it to stay in the port for a long time. Some of its additional features include durability, crush-resistance, waterproof, and easy pairing without the need for other software.
Pros
Compatible with Android devices
Compact design
Water resistant
Reduces IT operational costs
Secure authentication with a single touch
Cons
Its incredibly tiny character makes it easy to lose as it has no key ring
Needs an adapter when used with smartphones
If you are looking for a primary security key to protect your online data, Thetis Fido Security Key is your best bet. Similar to a portable USB Flash drive, its aluminum alloy cover rotates at 360ᵒ to shield the USB connector when not in use as well as protect it from drops, scratches, and bumps.
Its compact nature and near-universal compatibility make it easy to set-up and use. You are guaranteed of web security through a strong factor authentication to your online platforms. Fido provides an affordable and simple solution with high security when looking for the best security key in the market.
This Thetis Security Key is compatible with browsers supportingthe FIDO U2F protocol. Such websites include Google G-suite, Dropbox, Facebook, SalesForce, GitHub, BitBucket, Dashlane, FastMail, and GitLab.
Pros
Compact and lightweight
Suitable with all major operating systems
A fast one-button authentication procedure
Long-lasting
Cons
Tough to move the rotating aluminum cover at first
Does not connect to smartphones
This innovative piece of technology combines advanced fingerprint technology and 360ᵒreadability with anti-spoofing security. For the protection of your data from cyber thieves, it provides a fingerprint algorithm which exceeds ordinary industry standards and swipe sensors.
Compatible with only Windows Hello, and Windows 7, 8.1, and 10, it stores up to 10 different fingerprints. All biometric data is individually encrypted using a secure 256-bit advanced encryption and transport layer technology ideal for preventing fraud, tampering, and eavesdropping.
Kensington VeriMark Fingerprint Key has a simple and compact design which easily attaches to a key ring.It is also Fido U2F certified meaning it is compatible with websites such as Dropbox, Facebook, and Google; among many others.
Pros
Advanced Fingerprint scanner makes it easy to use
Compact design for convenient portability
Universal integration with Windows Hello and other Windows versions
Cons
A cheap and crushable plastic cover
It is not suitable for mobile devices
Recently introduced to the security key market, Googlelaunched this security key built with hardware chip to ascertain key integrity. Initially available to Cloud users only, but now available to the public, its appearance is dongle-like and provides the two-form authentication just like other security keys.
Featuring tamper resistant and anti-phishing hardware, Titan Security Keys offer cryptographic proof of users interacting with legal services with registered security keys. The hardware chips are designed to resist physical attacks which may remove firmware and secret key material. Its suitability with Google's Advanced Protection Program aids in protecting users from cyber-attacks.
Together with the slim USB security key, it also comes with a Bluetooth powered key fob which shows authentication, whether it requires charging or is charging, and strong Bluetooth connection.
Titan Keys are FIDO U2F certified since Google believes it is the strongest anti-phishing two-step authentication method. If you have important data on your accounts and require additional security, this is the best security key for you.
Pros
Broad browser support
Advanced security protection
Phishing and tamper-resistant hardware
Sleek appearance and sturdy feel
Supports Google Advanced Protection and mobile devices via a Bluetooth connection
Cons
Setting-up the Bluetooth feature takes some time
White paint on the Bluetooth key chips off quite fast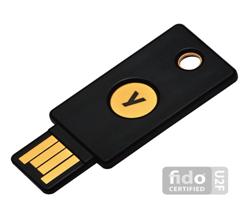 When looking for a durable, protective and a key that is compatible with most online services to protect your data, YubiKey 5 NFC is the best security key for you.It offers strong two-form authentication via USB-A ports and Near Field Communications (NFC).
YubiKey 5 NFC provides advanced security for your online accounts due to its advanced technology. As such, it is tough for unauthorized guests to gain access to your online files. It is also water-resistant, tamper-proof, and crush resistant.
Being that the YubiKey 5 NFC Security Key is FIDO certified, it is compatible with Google Chrome and any other FIDO-Complaint Application on MAC, Windows, or Linux.
Pros
Water resistant
Crushproof and tamperresistant
Lightweight and compact design allows easy portability
Easy to setup and use
Cons
Conclusion
Looking for the best security key requires patience and resilience. With so many options to choose from, it is crucial to conduct sufficient research on which security key is best for you. Some criteria to check against when looking for the best security key include the type of your computer's USB ports, the level of web security you are looking for, and a key's compatibility options; to mention a few.
YubiKey 5C Nano is an all-around security key ideal for both individual and organizational use. Its manyplethora of security standards and compatibility with all major operating systems make it easy to setup and use.
The Kensington VeriMark Fingerprint Key is a fun and creative alternative for tech-savvy individuals. Its advanced ability to capture biometric data provides an easy option for IT experts and security analysts to access their online accounts.
FAQS
What happens when my security key gets lost or damaged?
Many security key manufacturers provide you with a set of backup codes during your initial purchase of the security key. If you lose your backup codes, you will have to undertake a lengthy verification process to prove your identity.
Can I log in to my computer using my security key?
Depending on your computer's settings and compatibility with the key, it is possible to log in to your computer using your security key quickly. In case of any difficulties, it is best to consult with the manufacturer.
What is the difference between a fingerprint reader and a security key?
A security key depends on the user to tap it and verifies the identity from the cloud. A fingerprint reader stores a copy of your fingerprint and uses it to verify your identity once you log in to your online accounts.
What does FIDO U2F Standard mean?
FIDO is an authorization program which allows non-members and members to ensure interoperability and measure compliance among services and products that support FIDO protocol. It enables users to securely and quickly access online services and websites supporting FIDO U2F requirements using a single device.
How does security key work?
Security keys are part of the advanced security measure, two-form authentication, which helps to keep your data safe. After entering your password, you can opt to tap a physical security key instead of inserting a passcode, depending on the compatibility of the security key.
What is two-step authentication?
Two-step authentication is a security measure where apart from entering your password and passcode, you receive a notification on your smartphone to confirm your login attempt. It can be in the form of a text, email or a phone call.