Are you interested in answering your door digitally? Investing in one of the 5 best video doorbells will keep your home safer and eliminate the risks associated with opening your doors to strangers.
As a real estate developer, I know for a fact the importance of installing a good home security plan. With cases of home burglaries on the rise, purchasing the best video doorbell takes away the mystery of who is at your doorway immediately you hear a knock. But with so many quality video doorbells in the market, it is confusing when choosing which one to buy.
Top 5 Best Video Doorbells
| | | | | | |
| --- | --- | --- | --- | --- | --- |
| Model | Arlo Essential Video Doorbell | Ring Video Doorbell 3 | Skybell HD Wi-Fi Enabled Video Doorbell | Ring Video Doorbell Pro | August Doorbell Cam Pro |
| Suitability | Amazon, Alexa, IFTTT | Alexa, IFTTT applets, Amazon | Alexa, Amazon, Nest, IFTTT | IFTTT, Alexa | Amazon, Alexa |
| Connectivity | Wi-Fi, Bluetooth | Wi-Fi | Wi-Fi | Wi-Fi | Wi-Fi |
| Video resolution | 1,600*1,200 | 1080p | 1080p | 1080p | 720p |
| | Check price | Check price | Check price | Check price | Check price |
Read on for a more comprehensive comparison of the video doorbells
This smart video doorbell solution is one of the most advanced doorbells in the market. With its sleek, slim, and modern design, this impressive security gadget has motion and sound recognition features as well as the ability to play pre-recorded messages.
Once someone approaches your entryway, or when your doorbell is pressed, it begins recording video. You will then receive a notification on your smartphone and hear the sound of an internal chime. From its mobile application, a range of features are at your disposal. Activity Zone allows you to select a specific area what will trigger motion alerts. You can also activate Leave a Message where Arlo will tell your visitor to leave a message if you have not answered in 20 seconds. You can also put it in Home or Away mode, which disables motion detection.
The Arlo doorbell is easy to install and accessible to both Android and iOS users. It offers great interoperability with third-party smart devices as well. From a larger head to toe view, to its weatherproof enclosure and two-way audio, this smart doorbell is a solid choice for Smart homeowners.
Pros
Motion and sound detection
180 degree, head-to-toe view (1:1 Aspect Ratio)
Modern design
Sharp HD video
Cons
Arlo support is not great
Need Arlo Smart Plan subscription to activate many of its features
Only 2.4 GHz
Perfect for homeowners who do not want to mess with their home's electrical wiring, the Video Doorbell 3 Plus is an easy to install gadget with a rechargeable battery. It comes with an instruction manual, screwdriver, mounting screws and anchors, drill bit, wiring nuts and wire extensions, and a USB charging cable among others.
Apart from the 1080p display, it also has a field view of 160° and has four infrared LEDs for night vision for up to 30 feet. The 3 brings improved motion detection, privacy zones, and dual-band Wi-Fi connectivity. Its "Pre-Roll" Feature allows you to see what happened in the previous 4 seconds before motion was triggered.
This doorbell also allows you to control it through any Alexa device. Whether it is two-way audio or motion detectors or an internal chime, Ring Video Doorbell 3 has it all.
Share and view videos with your social circles with a tap of the Neighborhood button available on the Ring app. A Live-View button displays a live stream of your entryway. Pro – tip: this device uses your Wi-Fi, so make sure that you have a router within reasonable reach to your door.
Pros
Wired or battery power operated
Motion censoring with triggered recording
Easy to install
1080p video display
Cons
Needs subscription to view recorded video
Bulky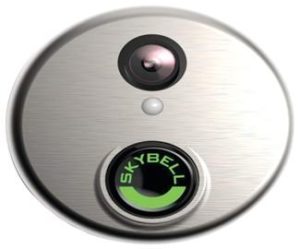 Skybell HD has a unique circular aesthetic which stands out among the many Smart video doorbell options available in the market. Among its wealth of Smart home options, it consists of a customizable LED button, 1080p display, and 180° field view display.
Compatible with multiple home automation systems and Smart home devices, it uses its pre-buffering feature to capture action before the doorbell rings or motion sensors activate. You can also watch videos at any time and take a snapshot and share it with friends.
When a guest rings the doorbell on SkyBell HD, the mobile application sends you a notification to your smartphone. You may then choose whether to pick the call or not. Its two-way audio feature allows communication without necessarily opening your front door.
Pros
Colored night video
Sharp 1080p video resolution
Motion sensors with pre-buffering feature
Easy to install
Stylish design
Cons
Barrel distortion
Lacks a back-up battery in packaging
Ring Video Doorbell Pro is an amplified version of the already excellent Ring Video Doorbell 2. Its exceptional performance and attractive design makes it one of the best video doorbells of 2019. This high-end Ring comes with interchangeable faceplates and chimes.
With a 160° field view, this nifty device allows you to set motion detection alerts for different areas in your home such as the driveway, front lawn, or the mailbox. Its compact size and multicolored options are ideal for any trendy homeowner.
Some of its other features include two-way audio, bright night vision, cloud storage for up to six months and the ability to share video clips with other people such as the police or your friends and family.
Pros
Thin design
Pre-buffered recording
Sharp 1080p display and clear night vision
On-demand streaming
Easy to install
Cons
Barrel distortion
Extra cloud storage comes at an additional cost
August Doorbell Cam pro is designed to protect your home and family with its next-level monitoring system and smart features. Whether it is its Hindsight feature which offers up to 10 seconds pre-buffering recording or its Floodlight feature for better night vision, this smart doorbell ensures you do not miss a thing.
Once a guest presses the button, your smartphone receives a push notification and launches a live video feed which contains a microphone for two-way communication. The live video feed also features a lock button and an end button for a more natural connection.
Apart from a camera resolution of 1280-by-960 and a 120° field view, the Cam Pro features motion sensors, a back-up battery, internal chime, and colored night vision.
Pros
Impressive HD video quality
Hindsight pre-buffering
Motion detectors
Easy to install
On-demand video streaming
Cons
Requires subscription to view recorded videos
Does not accommodate IFTTT integration
Closing thoughts
According to the FBI Crime Statistics Report, 1.5 million burglaries occur within a year, with more than 70% taking place in personal residences. Alarmingly, most of these crimes happen during the day and through access gained through a door or window.
Using one of the best video doorbells available, you can safeguard your property from theft, unwanted solicitors, home invasion and porch pirates. Ring Video Doorbell Pro is one of my personal favorites due to its attractive design and real-time live video feed. Its symmetrical video feed with no barrel distortion as well as pre-buffering technology are a few reasons why it is at the top of my list.
For the best weatherproof video doorbell, SkyBell takes the trophy. Using the SkyBell App, multiple users may control the door, share and review recorded videos, and silence the doorbell when required.
FAQS
How do I choose between a wired and wireless video doorbell?
It all depends on where you live and whether you have doorbell wiring at your house. Wired video doorbells may require the services of a professional electrician, while wireless doorbell options often require do-it-yourself installation. Their batteries deplete quicker though depending on usage.
What is the difference between video doorbells and Smart Home Security Cameras?
Both devices show you what is going on outside by offering features such as motion detectors and two-way audio. Security cameras lack the doorbell component, which is available in video doorbells.
Can I use multiple video doorbells in my home?
You can install several doorbells from the same manufacturer in your home and connect them to the same online account. You may want one on your front door and another at your back door, or a different residence altogether.
Do all video doorbells require an internet connection?
Most video doorbells use an internet connection to transmit videos and post notifications. Full access to the internet is a requirement for the best video doorbell to function efficiently.
Can I see a live video stream even before my guests press the doorbell?
Many video doorbells come with pre-buffering features which record videos even before motion and sound detectors activate. View the activities of your guests for up to 10 seconds before they press the button.
If a device has a rechargeable battery, how long does it last?
Depending on the frequency of use, video doorbells with rechargeable batteries last between 6 months to 12 months. Some video doorbells come together with a battery for set-up purposes and a back-up.