The bellroy key cover plus has a bi-bold magnetic hold that snaps back to keep the keys compact. Looking for a bold design? Check out the orbit key vs bellroy key cover plus review.
Am a fashion designer, and one thing about me is that I like to follow new trends and make everything I buy fashionable, even when it comes to my keys. I have to admit, I have lost quite a few key chains which is part of the reason I'm getting a new one. Apart from the style, I'm looking for a keychain that will hold all my keys compactly and eliminate any kind of bulk and disorganisation.
Differences between Orbitkey and Bellroy – How do they compare?
| | | |
| --- | --- | --- |
| Comparison | Orbitkey | Bellroy key cover plus |
| Capacity | 2-7 keys | 4- 8 keys |
| Weight | 1.44 ounces | 0.8 ounces |
| Material | Leather | Premium leather |
| Length | 4.8 inches | 92mm tall x 42mm wide x 10mm slim |
| Accessories | Loop attachment for installation | Leather loop for extras and accessories |
| | Check the price | Check the price |
Orbitkey vs Bellroy – a descriptive comparison
Aesthetic
The orbit key leather is designed in a very slim rectangular shape, with smooth edges on the side. The screw is attached to one end of the key holder while the other end has a loop attachment. The locking mechanism for key installation is only on one end.
The bellroy key cover on the other hand, is wide and kind of rectangular in shape. It has a strong and magnetic closing mechanism. The design is stylish and keeps your keys compact and tangle free.
Capacity
You can install from 2 to 7 keys comfortably depending on their sizes on the orbit key leather. The loop extension on one end of the holder allows you to add larger keys like car keys and even more extensions.
Bellroy key cover plus can hold 4- 8 keys without extension. It keeps them concealed inside the covers and minimises any form of noise. A leather loop is installed on one of the outer corners if this key chain.
Material
The orbitkey is made of strong and perfectly tanned leather. The soft feel of the leather makes it more lustrous and stylish. It is also thick, which means it won't wear or tear easily.
The bellroy key cover is made of good quality leather the manufacturers collect from tanning factories. The matter and somewhat lustrous look is achieved through the double tanning of the leather. It also ensures the keychain has a nice style to it and facilitate the perfect aging of the leather.
Accessories
You can install your own on the end of the orbit key holder with the loop attachment. For the bellroy key cover, designers installed leather loops where you can attach your own desired accessories. For stylish purposes, it is probably best that you refrain from adding too many accessories as they wool look more bulky.
The orbit key holder is created with perfectly tanned leather and designed to give you the illusion of a high quality key chain. The locks compactly hold your keys together and work to eliminate any tangle or jingle of a disorganised key chain. The orbit tan stitched leather keychain is pocket friendly and will protect your belongings from key holes, and any form of tears or scratches.
The locking bolts on this holder are made of high grade stainless steel. The combination of high quality leather and high grade stainless steel make it waterproof, durable and stylish. Its size offers you some form of convenience when you are out and about.
The pros
Made of high quality leather
Light in weight
Cons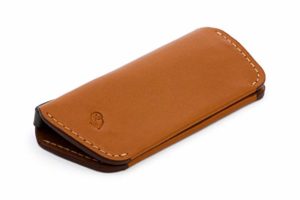 This eye catching key holder is made from organic leatherh. The designers obtain this material from exclusive farmers with working tanneries. To make things even better, the leather is produced with high quality grains and therefore does not support any animal cruelty. The leather in this key holder is dyed and double tanned to keep it looking fresh and new and increase the grace in the aging process.
This key holder can accommodate -8 standard sized keys. When the manufactures designed this piece of art, they had your clothes, pockets and bags in mind. Unlike any other holder, it shields the keys completely meaning no edges will be tearing through your bags, clothes or skin. The designers have also included an extra leather loop located on the exterior where you can attach bigger keys and your car key. Its magnetic closure and bi-hold design ensures your key snaps back on its own once you are done using the key.
The pros
Has good quality leather
Keeps keys stylish and perfectly organised
The cons
Expensive
Difficult to expand
The verdict
I love the shape of the bellroy key cover plus. It is designed to conceal my keys without making it obvious that it is a key holder. The fact that it is pocket friendly and is made of organic and cruelty- free tanned leather makes it even better. Purchasing this keychain is one of the best decisions I ever made.
FAQS
How thick is the key cover or key cover plus when folded?
Frankly, it depends on the size of key holder you get and the number of keys that are inside. With two keys, the clasp side will close up completely.
Can car keys and apartment keys fit into the orbit key leather?
Any keys can fit into the orbit key leather but there are length restrictions. Some keys are wide and will stick out on the sides but it is not any less functional.
Is the Orbitkey leather made of grainy leather like most other key chains?
The leather on the keysmart is very genuine and constructed in a proper manner. You tell from the feel of the leather that it is strong and will not granulate easily.
Will 5 regular sized keys fit into the keychain?
The bellroy key cover will fit up to 4 keys while the key cover plus will accommodate up to 8 regular keys.
Will a car key and apartment key fit into the bellroy key cover?
It should be able to fit just fine. If the key is too big, it will stick out from the sides a little bit. There are no restrictions when it comes to car and apartment key installation as long as the hole fits through the holder.