The Schlage connect vs yale real living review will help you build a better home security system. The Schlage connect allows you to control the lock remotely when connected to your home system.
I was very interested in home automation until I discovered that my lock mechanism was not compatible with my preferred home automation system. The potential security risks were too big to ignore. I needed a lock system that could work in tandem with my home's security, allowing me to monitor all its features at once. When I looked through several smart locks online, I discovered a smart lock model that was compatible with all home automation systems.
What are the differences between Schlage connect vs Yale real living ? How do they compare
Schlage connect vs Yale real living – A Detailed Comparison
Design
The Schlage connect come in a variety of colors. You can get it in a nickel, aged bronze, matte black or satin chrome design. It also comes with a set of matching door knobs and some other accessories.
The Yale real living is equally as stylish and comes in a variety of colors as well. The colors include; matte black, satin nickel and oil rubbed bronze. The keypad on Yale real living will remains black until you activate it with your hand.
Performance and compatibility
Schlage connect is very easy to use. To unlock it, all you have to do is touch the logo on the lock and enter your codes when the screen lights up. Locking is as easy as pressing the button. It blinks green to show you the lock works and red if it does not. You can connect it to a z-wave if you want to use the smart features like auto lock the automatically locks your door within 30 seconds after opening.
Like most touch screen deadbolts, the Yale real living works as a stand-alone deadbolt. It is very simple to operate. You can unlock the deadbolt with a simple 4-8 digit pin. It allows a one touch locking which makes everything even easier.
Security
The Schlage connect includes an alarm system that will ring when anyone tries to tamper with the lock. The beeping will sound during locking, unlocking and forced entry. An anti-pick shield protects against lock tampering on both smart locks. It had been given an ANSI/BHMA Grade 1 rating, which is the highest security rating.
The Yale real living falls a little behind with a ANSI/ BHMA Grade 2 rating. one of the many advantages of the Yale real living is that it has a cylinderless lock which can be quite difficult to jimmy through.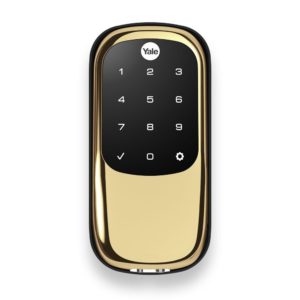 The Yale real living touch screen wave deadbolt has multiple customisable features and a modern looking design.  It comes in satin, brass and oil rubber bronze finishes. The Yale lock speaks back to you when giving out some commands, clear instructions and notifications. It is one of the most convenient features of this smart lock. It has a voice guided set up that makes it easy to install and use.
Yale has an attractive touch screen keypad and allows for extra security in your home. In order to activate some of the Yale real living features, you will require a home automation system but you can easily operate without one.
The built in siren on this smart deadbolt will sound as soon as someone tries to unlock or kick down the door. It works with a built in keypad and does not use key fobs. The keypad allows you to programme some codes and send them to other users through text or email.  By any chance, if the lock stops working you can override the system with a traditional keyhole that is provided.
The auto lock feature works immediately 30 seconds after the door is unlocked. For access to most auto lock features, this Smart lock should be paired with a home automation system. It works well with mobile apps, remote access, compatible video door bell and guest access. You can track the lock's activity with the automation system.
Pros
Small, classic design
Number pad only
no keys required
Cons
you need a Z-Wave for the advanced features
Lacks alarm
The Schlage is a quality keypad and has the ability to programme close to 30 different access codes. Using the keypad at night is now easier. It has an illumination that makes it easy for you to spot the keypad.  When there is a forced entry, or the door is unlocked the built in sensors trigger the deadbolt to produce an alert.
The Schlage connect is basically connected to a smart home system. You can link it up with wink, iris and Samsung smart things using the z-wave. This connection enables you to remote control the deadbolt when you are far from home. The button and twisting knob, located on the inside of this smart lock, helps you control your security alerts. On the outside is a finger print resistant keypad for a keyless entry. While the keypad makes it easy for you, your family, friends and guests to get in, it makes it harder for strangers and unwelcomed people to enter.
Pros
Features multiple languages
Works perfectly
Cons
You cannot schedule temporary access codes
The bottom line
If you are looking for a good quality keypad, then these two are worthy to consider. They both provide extra security for your home and you have the ability to control who goes in and out at whatever time. You do not have to worry about losing your keys with these security locks.
FAQS
 Does the Yale real living touchpad work when you have gloves on?
Typing on the screen with hard or leather gloves might be difficult but the touchpad works with most kinds of gloves. The screen is pressure sensitive and will work well with cotton and other light gloves.
 Can you use muti-codes and one time codes while you are locking up the Yale real living?
You do not need the hub to set up multi codes on this smart lock. Unfortunately, the Yale real living does not allow set up of one time codes. You can do this by setting up a code and deleting it manually once it is used
How is it easy to install the Yale real living smart lock?
Some people get a locksmith to install this smartlock if they are super busy. The truth is, it is super easy to install and does not require any additional holes; you can easily install it with the instructions included.
Can you programme the Schlage to lock after a delay of more than 2 minutes?
The auto- lock features on the Schlage connect just works as on and off switch. The auto lock is set at 30 seconds which means the door will lock 30 seconds after use.
 What do you do when you lose the keys that come with the Schlage smart lock?
You can simply choose to re-key the lock with your locksmith or have a manufacturer create a key that works perfectly with your smart lock.