If you are reading thing this, you probably have very many questions regarding the use of online security keys, and how to properly maximize their use. In this article, we look at two systems – the Titan Key vs. Google Authenticator.
The world of security keys can be confusing when you do not know what to look for. In addition, it gets worrying when you consider how weak passwords are as a form of authentication. For instance, you might decide to re-use one password in multiple accounts to reduce the need of you remembering multiple passwords, yet this exposes you to major risks; not to mention it hinders your progress in password hygiene.In this article, we examine two security authenticators, the Google Authenticator that uses 2FA (two-factor authentication) and the Titan Key that uses U2F.
What are the differences between Titan key andGoogle Authenticator? How do they compare?
| | | |
| --- | --- | --- |
| Model | Titan key | Google Authenticator |
| System of authentication | U2F | 2FA |
| Open source | Yes | Yes |
| Compatible Browsers | Chrome (it doesn't work with others though) | All, including social media platforms |
|   | Click here | Click here |
Titan security key vs. Google Authenticator – what are the differences?
Security authentication systems
The Titan key operates in a different way from the authenticator, as it primarily relies on U2F technology, where you use the key to authenticate you alone, and increase your security since no one else can enter your account. The key also includes USB for the desktop experience and NFC for the mobile users, making it easy for you to use it regardless of the device you prefer.
The Google Authenticator uses 2FA, which is a system where you get unique codes on your device, such as QR codes on your phone, which you scan the code or enter a unique code to access your accounts. It is considered as a good beginning for you to secure your account and prevent unauthorized people from accessing it.
One time access for the key
When it comes to accessing your accounts, you can opt for the Titan key that stores all your digital certificates, and uses that toaccess your information without you using your password all the time. On the other hand, the Authenticator can be a good system for ensuring you secure your account at the basic level, as it will continuously send unique codes to your phone or device, but you will need your password as well.
Compliant sites
They are all very good at working with numerous protocols and platforms, such as through their tap-and-go authentication with Windows 10 devices and Android applications. The Titan key will only work with Google Chrome. Conversely, the Authenticator will work well with any site you choose to connect it to, even social media sites and various browsers – although it works best with Chrome.
Titan security key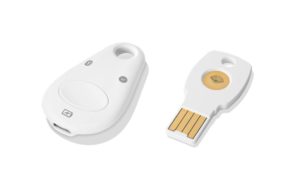 When it comes to security online, the best security alternative is using a security key. It is reliable and simple, while preventing the incidents of account takeovers and phishing. The Titan key implements of the famous FIDO standards for the 2FA system in the key goes a long way to confirm the security key of the individual user as well as the login page address.
There is built-in hardware chip, which contains firmware that is verified by Google.The key is also able to work efficiently with most browsers, as well as the services that support FIDO standards (such as your social media accounts).
Pros
Easy setting up of the key to your accounts
Durable build and great design
Cons
The support for numerous protocols is not present, as it only fully supports FIDO
Among the main advantages of 2FA apps such as this is that you are the only person who is authorized to access your account, rather than the typical password system that risks hacking (unless you use a two-factor authentication system).
The main information that regards the use and any other questions you may have is on the main Google website, and you will get all the information you need.The process of setting up is very easy as well.Numerous security login features have the advantage of accessing multiple protocols, and this is not an exception. Authenticating all the sites you visit is also easy, as you only need to login to the website through the interface of the app.
Pros
Very easy to set up, and use as well
You have safer logins as it maintains the security of your account
You can add an unlimited number of accounts
Cons
You cannot back up the contents to your cloud
Conclusion
In our Titan key vs. Google Authenticator, we see that the Authenticator has many benefits to your overall security levels. However, the Google Titan key has more security advantages because of the U2F system. If you do not use Chrome much when you are on the internet though, the Authenticator is a better choice as it allows you to access various browsers.
FAQs
What is the advantage of using U2F keys over 2FA authentication methods?
While 2FA proves be to a more useful security method than a password, it does have its own inherent issues. U2F is the most reliable, as it allows you to access multiple accounts without the need of a password or exposure risks, all through the use of one device.
How do you use a security key?
The key will basically work as a second factor authentication, and some keys will allow you to retain your passwords as well. After you log in through the usual process, you insert the key into a USB port briefly, then tap the button.
What happens when the U2F key gets lost?
The process of setting up the key also allows you to select backup methods you can use just in case. For instance, the use of authenticator apps, or OTP (One time password) codes and extra U2F keys.
What if it gets stolen?
The person who steals the key cannot access your account unless they know your password, which the key does not have (it only stores digital certificates, which do not have login information).
Do you need a separate key for each account?
No, you can use one key for multiple accounts, just like the 2FA system that allows you to use one app for multiple accounts, but different codes. This is because the key stores your digital information in a chip.