Stuck between which key holder will cut it for you? The keybar aluminium vs keybar titanium will make it easier for you to make the right choice.
After losing and breaking my plastic and glass key chains for a while, I decided to make a change. Basically, I carry around a set of keys for my school locker and my room but I realised that I'm pretty clumsy. The only way I could solve the problem is to get a perfect keychain that will keep my keys together and won't break easily.
Differences between Keybar stonewashed aluminium and Keybar titanium – How do they compare?
Keysmart VS keyport pivot – a descriptive comparison
Aesthetic
These two key holders have a similar physical design. The fact that they are from similar companies may explain why. the central part of both key holders is rectangular and the edges are well rounded. By design, they both work well to shield the edges of the keys from poking holes into your clothes, bags or tearing your skin.
Capacity
There is not much difference when it comes to the capacity too, the aluminium and titanium keybar can hold up to 12 keys. With an extension loop they can hold up to double that number.
Material and weight
This is probably the main difference between the two key chains. One keybar is made of stonewashed aluminium while the other is made of good quality titanium. The aluminium keybar weighs 5 times less the titanium keybar. This means the titanium keybar is heavy even when the keys are not yet installed.
Accessories
The titanium pocket clip on the aluminium keybar makes it interesting too carry around. You can just clip it in any of your pockets or the belt loop for convenience. It will be easier not losing the key when it is attached to your clothes at all times. It also has a loop where you can attach extra keys.
The titanium keybar may not have a pocket clip, but it has a loop installed where you can attach a larger key or a car key.
The size of the holder and Maximum key length
They seem like they have the same length physically but there is a little difference. They aluminium keybar is shorter than the titanium by just a few inches. It may not be noticeable, but will make a difference when it comes to the length of key installation.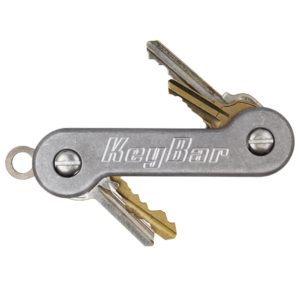 This heavy duty key holder is made from high quality stainless free steel and aircraft aluminium grade to produce the perfect tool. It is made with an ergonomic design that won't add to the bulkiness when your keys are assembled.  With the extension screws, the aluminium key bar can accommodate up to 28 standard sized keys and 12 keys when the standard screws are included. It organises your keys instantly giving you a compact and tangle free result.
You won't have to worry about any key jingled when you have the aluminium keybar.  The shape of the holder is created to stop the sharp edges of the keys from poking holes into your pockets. The organisational system of this keybar saves you space, money and time. It has a pocket clip which allows you to attach the key to your pocket or belt.
Pros
It is lightweight
Accommodates many keys
Cons
This key holder is made entirely from high quality titanium.  A pocket clip is included to allow you to attach the holder to your pocket, belt or other parts of the cloths.  The titanium keybar can clip into your belt and will not make any noise while you are out and about. Taking the clip off your belt is easy and will not cost you any of your time. Without any extensions, this clip can accommodate up to 12 standard sized keys.
With extra screws, you can include more and bigger keys.  The rubber o rings are installed to make it easy for you to adjust the tension.  The washers on this holder are made of stainless steel to make separation or deployment easy.  Unlike basic key organisers, the titanium keybar will hold and fold away your keys and not just tuck them on the side.
Pros
Cons
The verdict
Basically, these two key chains have no difference when it comes to the strength and durability of the material. What made me go for the aluminium keychain is that it has a titanium clip installed at the back. I clip the keychain to my clothes and reduce the chances of losing it like I did before. I am pretty pleased with this decision.
FAQS
Do you have to drill holes into smaller keys to fit them inside?
No you do not have to drill any holes into your keys. Both the keybar aluminium and titanium have a standard screw that will fit almost any keys.
What is the maximum length that will fit into both keys?
Standard sized and shaped keys can integrate into both keybar perfectly. In simple form, most house keys will fit into the keybar perfectly.
Can install thicker keys into the keybar?
Thicker keys, even those with plastic will fit into the keybar perfectly. they may extend the keybar out further than a normal key, but it will do the job.
Do they come with a fob attachment?
Both the aluminium and titanium keybar include a fob attachment. You can add an additional loop for extra fobs and car keys or longer keys.
Is there a major difference between the aluminium keybar and the titanium keybar?
There is not much of a difference in design between the aluminium and titanium keybar. The difference is in weight, the titanium is slightly heavier than the aluminium but it is also nearly unnoticeable.