Want the perfect key holder? Check out this keysmart rugged vs keybar review. The keybar can hold up to 28 keys and more when extended.
I enjoy my job as scientist in a pharmaceutical company, except of course the part where I have to handle more than two pairs of keys. While some doors are accessible by key cards, others need a traditional lock to function properly. When it comes to handling such items, I am as clumsy as it can get. I have lost, misplaced and locked too many keys. I should have made the choice of getting a key holder sooner but at least I'm taking a step.
Differences between Keysmart rugged and Keybar – How do they compare?
| | | |
| --- | --- | --- |
| Comparison | Keysmart  rugged | Keybar |
| Capacity | 14 keys | 28-12 keys |
| Weight | 3.2 ounces | 1.6 ounces |
| Material | Stainless steel and aluminium | Aluminium and stainless stonewashed steel |
| Length | 76mm | 88mm |
| Accessories | Has an extra loop for bigger keys or accessories | Loop attached for accessories |
| Maximum length key | 80mm | 90mm |
| | Check the price | Check the price |
Keysmart Rugged Vs Keybar- A Descriptive Comparison
Aesthetic
They keybar has a uniform shape and big rounded edges at the both ends. It is designed to keep your keys compact and organised. The rounded edges keep the sharp points of your keys from pocking holes into your skin or belongings.
The keysmart has a rounded curvature at the center, but the design does not keep it from performing well. It can also keep your keys compact and constrain the sharp edges from any type of damage.
Capacity
The keybar is very impressive when it comes to the capacity. Normally, it can hold up to 12 standard sized keys but with extension you can install 28 sets of keys on this holder. It is very convenient if you are known to add more keys to your chain regularly.
The keysmart can hold up to 14 keys and slightly more when expanded. It can work for a while but won't be very useful if you need to add more keys overtime.
Material
Although the designs look different, both keys are made of aluminium and stainless steel.  The high grade stainless steel is incorporated in the bolts and screws.  The difference is, keybar is made of stonewashed steel while the keysmart is basic steel.
Accessories
You can add any accessory of your choice in the loop attached to both key holders.  There is no big difference when it comes to the loop attachment, it is placed on one end on both holders and you can take it out by removing the screw.
The keysmart rugged has an improved functionality as a key holder; it has a loop piece and an extra removable clip. You can attach larger keys, car keys, key chains or other keychain accessories that you desire.  This key holder has a thick build making it more durable and safe from breakage.  It is created form rust free high grade steel and very powerful aluminium.
It has the capability of accommodation up to 14 keys, but has an additional space to install an expansion screw that can fit up to 10 other keys. The stainless opener installed on the rugged key chain may be small but may come in handy at some point.  This key holder is a little bulky considering the size, extra pieces and accessories.
The pros
You can hold more keys
Extra loops and clips for keys and accessories
The cons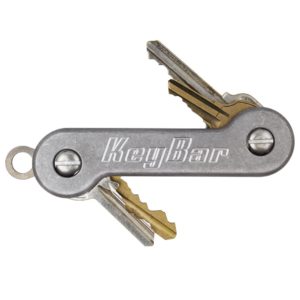 The keybar is an instant key organiser that will keep the keys neat and minimise the jingling noise when you are moving.  The design is perfectly made to control the sharp edges of any keys from breaking holes into your clothes and bags or scratching your skin. It is pocket sized and can organise your keys perfectly making them easier to locate. With this key holder, you will save your pocket space, money and time it takes to handle your keys.
This key holder can amazingly accommodate 28 standard keys when the extension screw is combined.  Normally, it can hold 12 standard keys when the standard screws are attached.  Keybar is made from stainless and rust free steel plus high grade aluminium, making it unbreakable and long lasting.  This design is ergonomic to keep it less bulky and easier to move around with even when you install your key collections.
The pros
You can hold endless amount of keys
Strong and long lasting
The cons
The screws may begin to loosen over time
It is expensive
Final verdict
Even though the keybar can expand to handle more keys, I do not really need it since I am not in charge of such a large number. I found the keysmart rugged more convenient. I am please with the fact that I can attach other lab tools that I need when working around.
FAQS
Between the two key holders, which model can accommodate many keys without expansion?
The can accommodate averagely the same number of keys. it all depends on the types of keys you want to install on both key holders.
Can I install key ring shopping cards on either holder?
It would probably work well with both but it is not the best idea.
Can I fit a key that is more than 3 inches long into the keysmart?
In cm, 3 inches is mm is around 76, and the keysmart can accommodate up to 80 mm long keys recommended. Just make sure your key is not alarmingly larger than 3 inches.
Should I drill holes into my car key if I want to arrange them into the key
You do not have to drill any holes into the keys. The keysmart has a standard 8-32 screw that will fit into most keys.
What is the difference between the titanium and aluminium key bar?
They are essentially the same when it comes to design and capacity.  The difference is in the material, even still they still weigh around the same and are both durable.