The keysmart pro is the ultimate infusion of the keychain, keys, and phone tracker. Find your perfect key holder by looking through the keysmart VS keysmart pro comparison article.
Don't you just hate it when you misplace your keys?  One difficult task about being a high school teacher is being entrusted with countless number of keys.  I have keys to some classrooms, desks in those classrooms, cabinets in my office, my office door, and filing cabinets in the common room and because I also teach gymnastics, I have those keys too. Carrying so many keys is overwhelming and most times I end up misplacing them.  Imagine how embarrassing it is to walk to class and the students expecting you to open the door for them yet you have no keys?
Differences between Keysmart and Keysmart pro – How do they compare?
Keysmart VS keysmart – A Descriptive comparison
Aesthetic
The keysmart and keysmart pro both have a rounded edge and central curvature meant to keep your keys in place.  They are made of smooth pocket friendly material which is convenient for travelling.
Material
The keysmart holder is made of high grade aluminium and good quality stainless steel. Although these materials seem heavy, it is not bulky at all, even when the keys are attached. Keysmart pro on the other hand is made of a hard plastic of good quality and rust free stainless steel. The plastic feels hard and it can definitely take a fall without breaking but it won't last as long as the keysmart.
Capacity
Here is where another difference comes in , the keysmart can hold up to 14 keys while the keysmart pro will only accommodate 10 keys when extended. These are normal sized keys of 80mm in length or less.
Accessories
The keysmart pro takes the win with an included bottle opener, LED flashlight and tracker. All these tools can come in handy but the tracker is the most precious. If you lose your keys, you can track it through an app in your phone by making the keysmart pro ring.  An added advantage is, you can track your misplaced phone by pressing the button on the key holder to make the phone ring. The keysmart has a loop where you can attach other accessories including a tracker but that will cost you a lot more than you should spend
The size of the holder
There is no difference when it comes to the length of the holders, they are both 76 mm long and can hold keys that are 80 mm long and less.
The standard keysmart will accommodate up to 14 of your keys given they are less than 80 mm thick each.  The designers have included a loop attachment where you can install larger car keys or fob remote. They keysmart was invented to keep your keys organised. This key organiser is made from high quality aluminium. It is stainless, rust free, light weight and has a design guaranteed to last you a while.
This keysmart offers you an organised system that will save your space, time and money.    It is also guaranteed to protect your clothes and bags; it has edges that keep the sharp parts away from your designer clothes and bags.
The pros
The cons
Can easily break when force is applied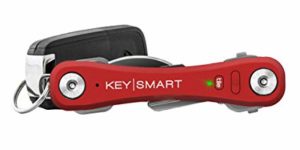 Keysmart pro has been created to keep your keys contact. It is equipped with a smart locator that will help you track your keys when they go missing. Link the tile app on your smart phone and you are good to go. The app will make your phone ring, making it easier and faster to find.  It also works to find your missing phone. The button on the key organiser rings your phone when pressed twice.
The keysmart pro can hold up to 10 keys. It includes a bottle opener and an LED flashlight which can come in handy.  This particular keysmart pro comes with a two year warranty. It also has a loop piece where you can attach an extra car key. The micro USB charging cable allows you to charge the holder whenever it is out of power.
The pros
You can find it easily
It helps you find your phone
User friendly
The cons
The verdict
These two products are closely similar, except the keysmart pro has a smart locator which is the main reason I was looking for a key holder in the first place.  The keysmart works very well to keep your keys together and in place but with the keysmart pro, you will be able to find them superfast when they are misplaced.
FAQS
Is the expansion pack of a standard keysmart compatible with the keysmart pro?
The keysmart pro does not have an extension pack. This is because the original keysmart has a bigger threading compared to that of the keysmart pro.
Can you track the keysmart pro using Bluetooth?
Basically, the keysmart pro uses a Bluetooth tracker.  It works like the rechargeable tile tracker but is not a GPS device.
Do the keysmart and keysmart pro work with different shaped keys?
They work well with standard keys but to some extent, they can accommodate all other types of keys.  For instant, square shaped keys might stick out on the side.
Does the keysmart work with smaller keys?
You can install a mailbox or padlock key of the keysmart. You just have to watch out for the head of the key, if it is too thick it won't fit well.
What is the weight of the keysmart without any keys installation?
The keysmart is made of hard plastic and aluminium, so is not heavy when the installations are not added yet.