If you go through different hardware stores in the US looking for residential locks, you will found one thing in common-similar brands. This Kwikset smartkey vs. Schlage review will elaborate.
I have worked as a detective for five years now. My job has sometimes made me pick a few locks as I try to connect dots in different cases. Though I am used to picking locks for valid reasons, the thought of someone gaining entry to my house for the wrong reason scares me. I like using bolts that make me feel secure especially when I am out working a case. It was not easy picking between Schlage and Kwikset smartkey, but I started my search by comparing them in this table.
What are the differences between Kwikset smartkey and Schlage? How do they compare
| | | |
| --- | --- | --- |
| Name | Schlage | Kwikset smartkey |
| Technology | Snap-n-stay mechanism | Rekey system |
| Side locking bar | Not available | Available |
| Weight | 1.5 pounds | 1 pound |
| Call to action | Check here | Check here |
Kwikset smartkey vs. Schlage-What are the main differences?
Technology
Schlage locks do not include the rekeying technology found in Kwikset smartkey. The technology that Schlage includes is the snap-n-stay technology which holds the screws in position during installation.
If you want a lock that offers you one-key convenience, you should consider choosing Kwikset smartkey. It allows you to rekey your locks easily so that you can control who can access your home. Kwikset also incorporates the use of side locking bar mechanism which boosts itsphysical security.
Durability and strength
The manufacturer of Schlage locks is praised for using durable components that make the locks strong and long-lasting. Some people criticize the durability and resistance of Kwikset smartkey. It does not last as long as Schlage locks. Though they include the rekeying mechanism, the lock is not as strong as Schlage lock due to a weak housing. Schlage locks have a robust housing and do not contain any hollow areas. Kwikset smartkey's housing is not only light, but it feels hollow making it less resistant to attacks.
Reliability
Sometimes the rekeying system of Kwikset smartkey is not reliable. It does not work as good as advertised. Some people report that the rekeying system is not dependable. You can always rely on a Schlage lock to give you exemplary service any time.
Bolt size
The size of the bolt matters when it comes to securing a door. It is the element which prevents the door from opening when you lock it. When an intruder tries to kick in a door, the bolt is supposed to prevent the door from opening. Schlage locks have a long and strong bolt that makes the door hard to open. The bolt in Kwikset smartkey is short and not resistant enough.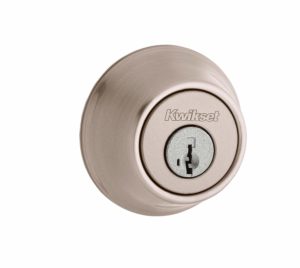 Unlike the regular deadbolt, Kwikset Company came up with a type of lock called the Smartkey. Though Kwikset smartkey does not look different from the standard locks, it has a different cylinder. They make the internal design of the cylinder a bit different from conventional types. The design makes it hard to lock bump or kick making it resistant to forced entry attacks.
Kwikset smartkey allows you to rekey the lock within seconds without the help of a locksmith. It helps you to control who has access to your home and can save your money. Kwikset smartkey is easy to install and provides smooth operation. If you need to replace a key that is lost, make sure you buy a cradle which is sold separately. It also contains a side locking bar mechanism that prevents intruders from gaining access through drilling or using a hammer.
Pros
They offer ample protection
You can re-key your lock in seconds
Cons
They are not long-lasting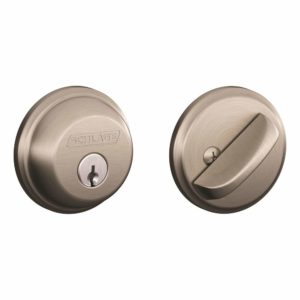 Schlage is famous for making heavy duty locks that provide high security to homes. The company makes ANSI grade 1 locks that can withstand any attack. The lock is a single cylinder type that comes with a keyhole on the exterior part. You can open this side of the lock with a key or use the thumb turn lever on the interior.
The lock not only looks great but also works well to give you an extra layer of security. The manufacturers also include a snap-n-stay design which secures the lock in position and also simplifies the installation process. Your purchase comes with a lifetime warranty.
Pros
It is a strong and durable lock
The lock is easy to install and secure
Cons
The instructions come in multiple languages which can be confusing for a newbie
Conclusion
From my Kwikset smartkey vs. Schlage review, I was able to learn the critical features of a good lock and identified the key features between these two models. Though both of them are ANI grade 1, Schlage wins due to its durability, reliability and bolt size.
FAQ
How do I get a good lock for my house?
Go for a heavy duty deadbolt that can is resistant to attacks. A good lock is one that is hard to tamper with. Both Schlage and Kwikset are popular brands that make quality locks offering maximum security.
Should a buy a lock with a rekey system or not?
Though the rekeying mechanism is convenient to use, you should look at other features to determine if it is worth buying. Get one that is strong, reliable and secure. You can buy a rekey kit separately.
Do these locks come with a long term warranty?
Yes. Purchasing a lock that has a long term warranty can save you from incurring extra expenses if you need to replace some parts. Both locks have a lifetime warranty meaning you can always replace parts.
Will the locks match with the rest of my hardware
Yes. Both Schlage and Kwikset smart key come in attractive finishes like satin nickel to complement your doorknob. You can also order your lock to come with different finishes such as polished brass or bronze.