Are you in need of a sleek, smart door lock that gives you the option of controlling it from a distance? Check out locks from Nest devices. Our nest x Yale lock with nest connect review reveals more!
I am a chef and a new mam. My maternity leave was over, and I was preparing to go back to work. I had to hire a babysitter to take care of my baby when I was away. It was my first time hiring a stranger and giving them access to my house. The thought of her duplicating my house keys kept on crossing my mind. I decided to install a smart lock. Since I bought Nest X Yale, I am at peace as I can regulate access to my house using passcodes.
What are the specifications of Nest X Yale with nest connect?
| | |
| --- | --- |
| Weight | 4.75 pounds |
| Dimensions | 6.1× 11.8×5.8 inches |
| Batteries | Lithium polymer battery |
| Call to action | Check price here |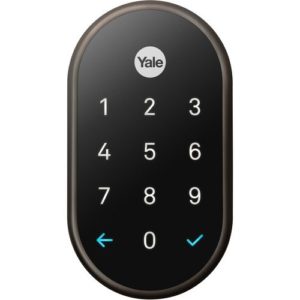 This smart lock lets you monitor the status of your door and control it using web console or a mobile app. Like other smart locks, it comes with numerous features that boost security and takes few minutes to install. The lock is compatible with multiple devices including your iPhone, Android, iPad or even Tablet.
Nest x Yale lock with nest connect review features
Design
You will love the beautiful design of this lock. It contains a white backlit keypad, capacitive touchscreen and has escutcheon sports on the exterior. You can get this lock in different finishes such as polished brass, oil rubbed bronze and satin nickel. On the bottom part, the manufacturer includes two terminals and a speaker which acts as the backup if the batteries of your lock die without your knowledge. In this case, place a battery against these terminals for the lock to work.
It is a lock that is designed to work without depending on keys. You get to lock and unlock your door with the help of a passcode. As long as you have the Nest app, you can let someone into your house without them using keys.  Unlike other conventional locks, Nest X Yale gives you the option of knowing who locks your door and when they do it.
Monitoring timelines increase security in your home since you can always check the access history. Feel free to set a unique passcode for your home and share it with your family members and some guests. It allows you to set schedules for guests to access your home in your absence.
One touch locking
Nest X Yale lock with nest connect also facilitates one-touch locking. It saves you time especially when you are running late. You only need to tap for you to lock your door as you get out. The door can also lock itself automatically when you leave.
Set-up
The installation process of this lock is a breeze. You can use the back and check buttons to customize your settings. Buy a screwdriver when purchasing the lock to help you replace your existing deadbolt with this lock.
Pros
It comes in a stylish design
Provides a smooth and quiet operation
It supports Net Secure
Cons
It does not support voice activation function
The lock also fails to support Z-wave devices.
FAQ
What is Nest X Yale with nest connect lock?
This is a smart lock that combines the reliability of Yale locks with Nest IoT connectivity.
Which features should I look for when choosing a smart lock?
Get one that is easy to configure and install and look at its mode of operation. A good smart lock lets you control your door through multiple devices using apps. It should also have an auto-lock feature.
Is Nest X Yale with nest Connect secure?
Yes. This lock not only looks good but also gives you a high level of security since you can control who accesses your home and manage it using passcodes. It has security features that minimize hacking risks.
Can I easily access my home at night after installing this lock?
Yes. The keypad features clear lights that increase visibility in low light conditions. This means you won't waste time trying to key in the passcode in the dark.
Conclusion
If you are already equipped with Nest devices like Nest secure or Nest camera, you need to complete the set by getting Nest X Yale with nest Connect. This is a solid, smart door lock that can connect with smart home devices effortlessly to simplify your lifestyle and boost security.
After my Nest X Yale lock with nest connect review, I realized how easy this lock was to configure and install. It has helped me control the people who can access my home and prevented me from relying on keys. I can monitor my door's activities even when I am away and tap it to lock as I leave home.