The tile key finder helps you track the location of your lost keys by sending updates to your phone. The orbit key finder vs Tile key finder review helps you pick out the perfect tracker.
Before a learned about the key holders with trackers, I had already bought an expensive holder. It is made of strong material, durable and can accommodate all my keys. The only problem is, I keep misplacing it and it takes a long time to find, especially because it is pocket sized. After checking online, I found that the best solution is to attach a key to a small tracker. This is way cheaper than investing in another key holder.
Differences between Orbit key finder and Tile key finders – How do they compare?
Orbit key finder and Tile key finder– a descriptive comparison
Aesthetic
The rose Gold orbit key is the perfect accessory for my keychain it is round with smooth edges and an opening where you can install it on the screws of the loop of your key holder. Everything about this key holder looks perfect.
The tile key finder is different. It is rectangular in shape. The keyhole is located on one of the edges on the tile tracker. Attaching this to a key holder is simple.
Volume
In terms of volume, the tile key finder takes the win. The manufacturers have tasted the volume to a high 98 decibels. It is a considerably high volume and you can hear it from a far, which Is what you want when you are buying a tracker.
The orbit key finder has its volume set at 90 decibels, it is a little lower but I think it will work just as fine. The volume is pretty high but the question is, is there a major difference in volume?
The range
You want to be able to track your keys when you lose them, and these two holders do just that. The orbit key finder can track for a longer distance, set at 300 ft. This is done by a Bluetooth device attached to your phone and the tracker.
The tile key finder can track your keys only if they are 200 ft away. This is a much lower distance than you would expect. To make up for this, this locator sends location updates to your phone, which is helpful in case you lose your key at unknown locations.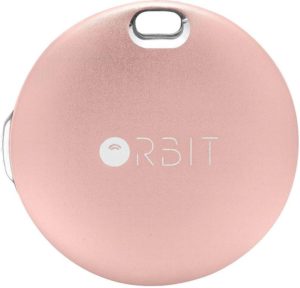 The main purpose of the orbit is to find your misplaced keys. To do this, the Bluetooth tracker has to be attached to your key holder, or even your bag.  The Bluetooth device is attached to your Smartphone which you can use to track the keys every time they go missing. The orbit plays a chosen tune that directs you to the misplaced keys. You can use the orbit to find a misplaced phone by clicking in the button and listening for a tune. It also has a GPS Locator that may help you track your keys when the Bluetooth is not within range.
The orbit can also take a selfie on your phone. This is done by positioning the phone and clicking the button on the orbit device to take a photo. No need to throw the device ways when the battery runs out; it has a slot where you can open and replace the dead batteries
Pros
Cons
The battery might run for a shorter period than expected
You can use this device to make your keys ring when they are out of site but within the location.  This can be achieved through a direct connection to an app on your phone. You can also use this device to find your missing phone; you simply have to double press the button on the device and your phone rings to reveal its location even when the tone is set on silent.  The tile app can help you locate your lost keys by sending location updates to your phone. The tile pro battery should be able t last you up to a year and if its runs out you can easily replace it.
The pros
The battery runs for a long time
Has a multi function
Light in weight
Cons
The verdict
I decided to go with the tile key finder. The reason is, I do not always lose my keys in my surroundings. The updates on my phone are very useful when I want to know the location of my keys and when I lose them while on a spree.
FAQS
Is tile pro waterproof enough to withstand being rained on?
Tile pro is waterproof and can withstand getting wet. However they are not waterproof enough to endure a full emersion into the water. In case you accidentally drop it into the water make sure you pick it up and dry it off quickly.
Does the Tile pro come with batteries?
It comes with CR2032 batteries that are replaceable. From activation, you can use them for a guaranteed period of one year.
How does the Tile Pro track your phone?
To ring and locate your phone with the Tile Pro, you need to double press the Tile button on any of your tiles if you have a couple of them.
Is it possible to sync multiple Tile Proto one phone?
You can connect all your Tile Pros to your phone on the Tile Pro app. Just make sure you label them correctly to avoid confusion.
Will Tile pro accept all languages?
You will be able to use your tile Pro with any language. Since Tile Pro depends on your phone connection with the Bluetooth, make sure it connects properly.