First timers may find it hard to find the ideal key chain organizer. We got you sorted with this review of the OrbitKey 2.0, Keyport slide 3.0 and the KeySmart Pro. Read on to find out which of these three organizers is the best.
The Christmas season is thebest time of the year. I get to interact with long lost family members and wiggle in bed all day without worry about work. When it snows, my sons will go outside and start throwing snowballs at each other while the girls will be busy decorating the snowman with Christmas lights. The kids cannot keep still waiting for Christmas Eve so that they can unwrap their gifts. Last year, was challenging forus as a family. My husband had gotten laid off,and we were trying to survive on my salary and some savings. But, that did not dampen the Christmas spirit. I got him a nice Key chain organizer to ensure he does not lock himself out whenever he forgets to carry his house keys.
If you are tired of noisy keys and want to be organized throughout the year, you may want to check out this guide on some of the best keyring organizers in the market.
OrbitKey 2.0
The leather folder for this key holder makes for an excellent gift for your man. You get to choose from multiple colors with the option of a rubber case. The keychain enables you to lay all your keys in one classy case. The OrbitKey 2.0 ring is made of stainless steel and can carry up to 10 keys. You open it through a rotate and pinch method. The stainless steel is an upgrade from the previous model that was made from aluminum. This makes the OrbitKey 2.0 to be more durable and slightly lighter than its predecessor. Any OrbitKey 2.0 keychain would not be complete without their multi-tool that has a screwdriver, old fashioned bottle opener, wrench,and the latest USB 3.0 cable.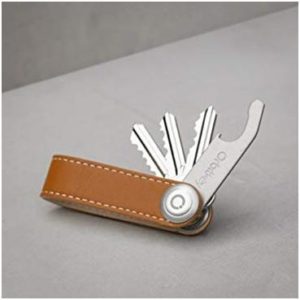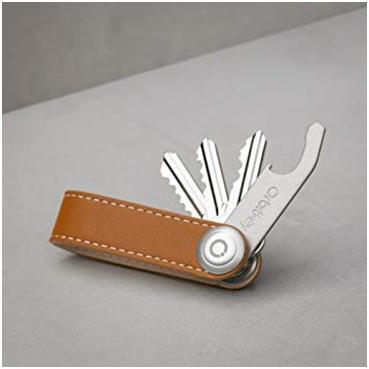 Keyport Slide 3.0
The Keyport slide 3.0 is an improved multi-tool device that enables one to have their keys, USB, various tools like a smallpocket knife, flashlight, wrench among others. The tool is made from a high-gradealuminum while the spring from hardened steel. The Keyport slide 3.0 is lightweight,and this enables it to easily fit in the pocket. Losing such an essential tool can be distressing,and that is why Keyport have come up with a tracking method for the lost tool. Each Keyport slide 3.0 comes with a unique serial number that is entered in the company's database; once the lost keychain is found the company will contact the owner for collection.
KeySmart Pro
Our list would not be complete without KeySmart. The KeySmart Pro is the ideal keychain for the modern, tech-savvy man. You get a screwdriver, bottle opener, Micro-USB charging port, and multiple keys all held by in sturdy aluminum frame. With the organizer, you eliminate the embarrassment of bunging pockets and noisy keys. If you are like me and find it a nuisance finding their keys in the morning, then the KeySmart Pro offers a stylish and classic way to stay organized. Assembling the organizer is easy and should take you less than 5 minutes. Unscrew the tool, place your keys and accessories and screw it back.
Conclusion
Keychain organizers are a great way to keep your keys in place and prevent losing them. Assembly of the organizer is easy,and you can even do it with a coin. Select the essential keys that you need on a daily basis and add some accessories like bottle openers or flash disks. The organizer can also be attached to your laptop bag or belt. In the review we found the KeySmart Pro to be one of the best key ring organizers in the market. The organizer can handle up to 20 keys and comes with multiple accessory options. Its classy design makes it an ideal tool for the modern man.