The best password manager offers you a secure and complicated password each time you log into a secure website. Read on to find the perfect password manager for your data.
As an IT specialist, I have different passwords for each account I access on the web. But remembering them all is quite a daunting task. By using the best password manager, no longer do I have to struggle with recording my passwords elsewhere. It automatically generates and remembers my long and strong passwords when I log into any of my online platforms. As such, my credentials are secure, and my sensitive information is safe from being leaked.
 Here are my top five selections for the best password managers
| | | | | | |
| --- | --- | --- | --- | --- | --- |
| Model | LastPass | Dashlane | 1Password | Sticky Password | True Key by Intel Security |
| Compatibility | Android, iOS, MAC, Windows | MAC, iOS, Android, Windows | Android, MAC, Windows, iOS | PC, MAC, Android, iOS | Windows, macOS, Android, iOS |
| Auto-fill and Auto Log-in | Enabled | is Enabled | Enabled | Allows multiple log-ins and auto-fill options | Enabled |
| Storage | 1GB Cloud storage | 1GB secure Cloud storage | Secure storage | Cloud storage | Secure Cloud storage |
| Secure sharing | Guaranteed | Guaranteed | Guaranteed | Synced through Wi-Fi | Lacks safe sharing options |
|   | Check price | Check price | Check price | Check price | Check price |
A detailed comparison of password managers
With two different versions, LastPass generates and stores different logins in a vault protected by your master password. For added security, features such as multi-factor authentication, Emergency Access, and Shared Folders run across both the free and premium versions.
Full access of LastPass Premium features requires you to log in to the online vault. Here, you can edit and organize saved entries, and create personal data entries such as credit card information, social security numbers, and addresses.
LastPass Premium uses Yubikey authentication whereby you insert a USB Port, touch the button, and generates a one-time password automatically. You can associate up to five Yubikeys to your LastPass Premium account. Not every device houses a USB port, so do not disable your two-step authentication form.
The Emergency Access feature allows you to identify other LastPass users who can view your passwords in case of an emergency. By using the two-factor authentication, nobody can access your online vault because of your master password.
Other features of LastPass password manager include secure data sharing, actionable password strength reports, password inheritance, and automatic password changing. For convenience and ease of use, LastPass is an ideal option.
Pros
Increased multi-factor authentication options
Large Cloud storage
Priority customer support
No Ads on LastPass Premium
Automatic form completion
Cons
LastPass premium does not offer Shared Folders feature
The premium option is pricey
Dashlane performs both the basic and the advanced tasks of a password manager with flair. Primarily aimed at protecting your passwords and identity, it is free to use, but only on one device without the ability to sync with others.
This effective password manager features Dark Web scan which checks whether your email address appears on any data breaches and the Identity Dashboard which puts all your identity-related data easily accessible.
Apart from secure data sharing and advanced form filling, Dashlane offers to capture its own receipt for online transactions. The receipt shows the full amount and a comprehensive list of items purchased.
Pros
Provides advanced password management features
Simplified VPN protection
Dark Web scan for compromised accounts
Compatible with all your Android, iOS, MAC, and Windows devices
Cons
Limited support for Internet Explorer
Cannot choose VPN server country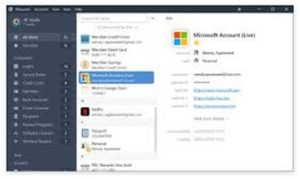 1Password is quickly gaining popularity in the market. Its easily generated in-code integration with numerous mobile apps and the trial version makes a top choice when looking for the best password manager.
Another useful feature is the ability of 1Password to act as an authenticator app. It adds a secret key to the encryption key, offering more security for your data. Anyone without access to your device cannot decrypt any of your personal information.
From its well-designed 'travel-mode' to efficiently generated passwords, 1Password protects data stored in your vault, even from law enforcement.
Pros
Compatible with many major mobile apps
Offers free trial version
Suitable for Android, Mac, Windows, and iOS
Cons
A bit expensive when compared to other password managers in the market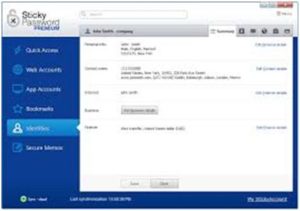 At a small fee of about $30 annually, Sticky password syncs data between all your devices. To do this, it stores your data in the Cloud, and no one can access it without your online account password as well as your master password. The Wi-Fi sync option allows devices to sync data once connected to the same Wi-Fi network. No need for your data to go to the Cloud.
While creating an online Sticky Account, all you need is to enter your email address and build a robust Sticky password for your account as well as a master password. With its thorough set of thorough online tutorials, you are sure to set up your account without any complications.
If you are switching from another password manager to a Sticky account, you can import your existing passwords without any hassle. As you visit secure websites, it captures your credentials and offers to save them and replay them once you revisit the site.
When you click the password field to log in your credentials, Sticky password generates a strong password with different character types. By default, you always have to remember your master password when logging into your Sticky Password account. You can also configure a USB drive or Bluetooth device to authorize your access instead of the master password.
Pros
Syncs across all devices
Secure no-Cloud Wi-Fi sync
Two-form authentication
Effective password management
Cons
No online access to passwords
No secure digital inheritance or password sharing
McAfee's True Key password manager handles both basic and advanced password management tasks. Installing True Key does not require any subscription if you do not need to store more than 15 passwords.
Upon downloading it, you create a master password of at least eight characters with all four character types. On its launch page, it displays a list of popular websites and encourages you to add one as a login. Its internal browser opens up an item you click on and insists on you logging in and saves the password for when you revisit the site.
True Key can use multiple factors for authentication such as a master password and a trusted device. Any attempt to log in from a new device requires additional authentication. The LogMeOnce feature allows you to create your master password without ever having to remember it.
Pros
Offers multifactor authentication
Allows syncing of passwords across your macOS, Windows, Android, and iOS devices
Can operate securely without a master password
Strong password management features
Cons
Lacks secure password sharing and inheritance options
Does not offer support for Internet Explorer on Windows and Safari on MAC
Conclusion
When looking for the best password manager, some key features to consider include ease of use, attractive interface, smooth operation and its selection of advanced features.
The Dashlane password manager is great for big commercial environments. Its one-click password generation, ability to store notes for future reference, and world-class security make it completely worth checking out.
LastPass is a reliable option for smaller business enterprises. The premium version offers secure cloud storage for your files and gives you the opportunity to set up a contingency plan to allow your loved ones access to your passwords in case of an emergency.
FAQS
Are password managers safe?
A password manager stores your passwords in an encrypted vault which you unlock by using your master password. The master password is not accessible by the password manager.
Is Chrome password manager safe to use?
Google's Chrome has a convenient and genuinely useful password managing feature. Passwords are saved to your Google account and are accessible to any other person with access to that device. Some viruses and malware may steal your saved passwords or personal information.
What happens if I forget my password?
Once you forget your password, you may reset it and receive an encrypted notification with all your secret information. You may be required to answer a few security questions to identify yourself.