The nest X yale has an auto-lock feature that shuts the door a few seconds after use. Read more about smart locks on the Yale Assure lock vs Nest x Yale review
I am big on automation and recently installed a partial home automation system to improve my security and keep my home efficient in terms of water and electricity use. Before I discovered Yale lock vs nest Yale reviews, I was walking around with a giant set of keys. I didn't feel very secure placing my key under the mat or giving it to someone for safekeeping and preferred the relatively safer option of keeping keys I didn't use in my car. When I found out about keyless smart locks, I was glad to be rid of the additional weight.
What are the differences between Yale lock vs nest x Yale? How do they compare
Yale assure lock vs nest Yale –  A Detailed Comparison
Design
The Yale assures locks are made in three finishes to match your home decor, door or doorknob. You can get a polished brass; oil rubbed bronze and satin Nickel depending on your choice.
The nest x Yale is well designed and easy to use. It comes in oil rubbed bronze, satin nickel, and polished brass. The lock is sleek, classy and very stylish. It is streamlined on the outside and a little bulky on the inside.
Performance and capability
Nest doesn't integrate very well with any other smart home systems: if you use HomeKit  Smart Things, Wink, or other systems, you'll largely be out of luck. Nest may go well with Google Assistant generally, but the Nest Yale pretty much does not support it.
Like with the nest X Yale, you will not need any keys to access the lock unless the batteries die down. The 30 second auto lock ensures the door is locked 30 seconds after it is opened. It also has a one-touch locking feature making it easier for you. You can customise around 16 codes for family and friends.
Security
When you are buying the nest x Yale lock, you are provided with the option of including the Nest connects.  If you do, you will be able to connect your lock to the internet and this allows you some immediate control. You can control the lock remotely; which means you can unlock or lock the home while you are far away or create address codes that can be used.
The Yale assures lock falls has a ANSI/ BHMA Grade 2 rating. One of the many advantages of the lock also has a built in alarm that will disable the keypad if anyone enters the wrong codes several times.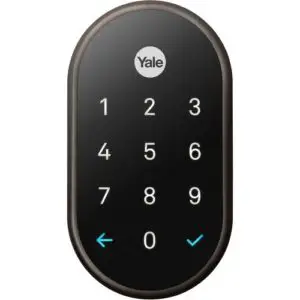 The nest x Yale comes with a WIFI adapter which helps you connect the smart lock to your phone for communication.  The applications offer a double deal bundle of remote access and free app control The nest x Yale does not have a keyhole, which means it relies solely on the key codes and mobile app controls in order to unlock.
Security is tighter because nobody will try to pick the lock and cannot open it without a code. Common numbers are not allowed when setting up the codes for this smart lock. It refuses to generate some numbers, which prompts you to create more complex ones. You can generate some codes for other people. You can add up o 20 codes for your guests.
Nest x Yale uses a zugbee which is developed by the sane company, to operate efficiently, the smart lock works with WIFI, Nest cam , Nest video doorbell and nest learning thermostat.  It responds very fast to commands from your mobile application.  This smart lock does not have an auto-unlock option.
Pros
Easy to install and user-friendly
Google Assistant support
Handy key fobs
Cons
Expensive
Doesn't work with Nest security cameras
The Yale Assure lock is a popular home automation smart lock.  You can manage this smart lock form anywhere when you have an alarm system and a smart home connection It is created in a modern design that is suitable for both traditional and modern home looks. The kwikset has very good security and it depends on a home system to work best with its features. Unfortunately, it may not work very well with direct phone control when the home system is not installed.
You can create up to 250 different codes which you can use with friends and family to unlock the door. The touch screen keypad on this Yale Assure lock is very helpful in improving your home security. You have to programme the keys manually, and the keyhole is for system override. It has Yale assure technology and is compatible with Z-Wave and ZigBee smart home systems.
Pros
Has an automatic locking system
It has 9v batteries for emergency charging
Backlit keypad
Cons
The bottom line
With the nest x Yale lock, you really do not have to walk around with a giant set of keys. if you are worried about the battery dying or a malfunction on the keypad you should not. the systems warns you whenever the batteries are about to die.
FAQS
Does the nest x Yale have a subscription fee?
There is no additional fee on this lock. After installation the only thing you will have to spend your money on is the batteries close to six months after you use them
Is this compatible with Samsung Smart Things system?
The Yale x lock is not compatible with android devices. You can connect it to the nest connect and attach that to your Wi-Fi for a direct control
Will the keypad on the Yale assure work without any power?
The keypad has a unique 9v backup battery that allows the lock to power up. It runs on 4 AA batteries and as soon as they run out the system will inform you.
Can Nest Yale be unlocked with the Nest app?
If you have the application on your Smartphone, you can unlock the door from anywhere. You can also receive notifications when the door is opened using codes or the keypad.
Does the Nest Yale have an auto lock feature?
The auto-lock feature on the Yale is pretty much functional but not in any way adjustable. It is set to lock itself 30 seconds after the door is open or you correctly put in the pass code.