The bellroy key-cover plus has a leather loop attached for bigger keys and accessories. Read the bellroy key cover vs. bellroy key cover plus review for more information.
When you are working as a lawyer, one of the main unspoken rules is dressing the part. You have to look professional, executive and neat otherwise nobody will take you serious. I keep all my information in some drawers in my office so I have to walk around with multiple keys. The jingling noise and disorganised keys can e very unprofessional in such an environment. I set out to find the perfect key that will look and act the part.
Differences between Bellroy key cover and bellroy key cover plus – How do they compare?
| | | |
| --- | --- | --- |
| Comparison | Bellroy key cover | Bellroy key cover plus |
| Capacity | 2-4  standard keys | 4- 8 standard keys |
| Weight | 1.44 ounces | 0.8 ounces |
| Material | Premium Leather | Premium leather |
| Accessories | Leather loop installed for extras and accessories | Leather loop installed for extras and accessories |
| Size  of holder | 92mm x 42mm x 10mm | 92mm x 42mm x 10mm |
|   | Check the price | Check the price |
Bellroy key cover vs bellroy key cover plus – A detailed comparison
Aesthetic
When you look at the bellroy key cover and the bellroy key cover plus, they look entirely the same. Well, the design might be but the color and size are not.  They all come in a variety of four colors, caramel, blue, cocoa and black. Both key holders have a beautiful stitching and work great to give you some functionality and style.
Capacity
Here is where the difference comes in, the bellroy key cover original can accommodate from 2 to 4 keys. With standard sized keys, you should be able to achieve a slim look with just that number of keys.
For the bellroy key cover plus, you can install 4 to eight standard sized keys for a classic slim look. The design is perfect and light even when the keys are installed.
Material
Both keys are created by the same manufacturer, which explains why they are very similar. The key holders are both made of good quality leather the manufacturers collect from tanning factories they then proceed to double tan the material for a matte or lustrous look; this ensures style and durability of the keychain.
Accessories
There are no accessories attached to either of the key chains, but they have leather loops installed where you can attach your own. To keep the key holder less bulky, you should minimise any unnecessary accessory and attach much needed ones like a fob attachment or car key and mini-locator device.
This executive key holder is made from premium grains that are obtained from leather tanneries. A double tan and dye gives it the lustrous look and ensures it ages more gracefully. This means that this leather key holder will last you a long time, maintaining its style and functionality for that period. Before you ask yes, the material used to create this holder is environmentally friendly.
For a super slim look, you can fit two to 4 standard sized keys.  An additional leather loop is installed where you can keep your car keys, fob keys or larger keys that would not otherwise fit into this key chain. It works with a bi-fold design and magnetic closure to snap shut and contain the keys into the holder easily. The keys are stored away from your clothes, phones and valuables so they will not cause any damage. This is the perfect key holder for style, organisation and less bulk.
Pros
Has good quality leather
Keeps keys stylish and perfectly organised
Cons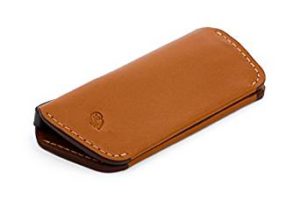 The bellroy plus key cover is made to handle 4-8 standard sized keys. it is created to keep your valuables like phones, bags and clothes safe from damage that may occur when your key scratches or pokes into them. The designers have included an extra leather loop located on the exterior where you can attach bigger keys and your car key.
This beautiful caramel key holder is made with organic leather that is obtained from exclusively selected premium grains from working tanneries. Just like the bellroy cover, the leather in this key holder is dyed and double tanned to keep it looking fresh and new and increase the grace in the aging process. The leather on this holder gets better with age. Its magnetic closure and bi-bold design ensures your key snaps back on its own once you are done using the key.
The pro
Can hold more keys
Pocket friendly
The cons
The verdict
The bellroy cover plus is unique, stylish and very functional. I chose this key cover because of its ability to hold more keys. I carry with me keys to my home and office so I appreciate that they fit in this pocket friendly key cover.
FAQ'S
What is the maximum length key that both key organisers can accommodate?
They will take up to 3 inch keys from the top to the bottom. It is advisable that you get keys less than 3 inches for a secure arrangement and closure of the keys
Does the bellroy key cover hold keys on both ends?
The standard bellwort key cover will accommodate keys only on one end. If you want double accommodation you can go for the key cover plus.
Is the magnet on the bellroy key cover harmful to any electronics?
So far, no one has experienced any technical harm for having the bellroy key cover stored away next to the phone.
How thick is the key cover or key cover plus when folded?
Frankly, it depends on the size of key holder you get and the number of keys that are inside. With two keys, the clasp side will close up completely.
Will 5 regular sized keys fit into the keychain?
The bellroy key cover will fit up to 4 keys while the key cover plus will accommodate up to 8 regular keys.