Are you looking for an electronic deadbolt that offers touchscreen capabilities? You can get one from Kwikset. Look at the comparison between kwikset smartcode 916 vs. 915 to help you choose the right one.
I like keeping up with the latest trends in everything. When touchscreen electronic deadbolts were first introduced, I was quick to check out the different models in the market. Since security is a priority for me, I needed a lock that could not be easily compromised. My friend warned me against choosing touchscreen locks since she said that intruders could quickly examine the code due to the oily residue you leave on the glass when entering the digits. This made me hesitate for a while until I heard about Kwikset which prevents such issues by including the SecureScreen technology. I was torn between choosing Kwikset smartcode 916 and 915, and so I compared them in this table.
What are the differences between Kwikset smartcode 916 and 915? How do they compare
| | | |
| --- | --- | --- |
| Name | Kwikset smartcode 916 | 915 |
| Supports Z-wave technology | Yes | No |
| User-codes | 30 | 16 |
| Weight | 3.35 pounds | 3.14 pounds |
| Call to action | Check here | Check here |
Kwikset smartcode 916 vs. 915- What are the main differences
Z-wave technology
If you want a lock that lets you operate your door remotely, you should choose smartcode 916. This supports Z-wave technology which facilitates wireless communication with other devices in your home. Though most features in these two deadbolts are the same, 916 comes with wireless capabilities while 915 does not.
User-codes
Another critical difference between the two is that 916 has more user-codes compared to 915. Kwikset smartcode 916 has 30 user codes while 916 offers only 16 codes plus a master code. Additional user codes are ideal for a large household.
Performance
Most people who have used Kwikset smartcode 916 are happy with its performance. It offers a smooth operation during locking and unlocking the doors. The touchscreen is responsive, and the process of rekeying it does not take a lot of time. Users of smartcode 915 raise a lot of complaints when it comes to how the lock functions. For instance, they claim that the lock gets problematic especially during the cold season. It also contains weak components that reduce its durability.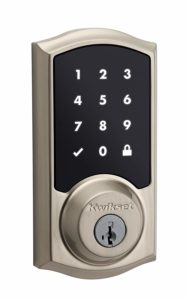 One of the modern locks available in the market is Kwikset smartcode 916. It is a touchscreen electric bolt that supports Z-wave technology to help you operate your door remotely. If you lose your keys easily, you should switch to this lock which delivers keyless operation. You get to unlock the door through the use of codes and a master code for temporary use.
The manufacturers include Secure Screen technology which adds extra security to your lock. Before entering the user codes, you have to input two random digits for the door to unlock. This prevents intruders from cracking your code. It can, however, be a complicated step for beginners. The sleek metal design adds aesthetic value to the lock while the tamper-resistant cover boosts security. There is also the inclusion of an auto-lock feature which works after a few seconds. Smartcode 916 allows you to rekey your lock using the SmartKey tool available.
Pros
It facilitates one-touch locking
The backlit keypad increases readability of codes at night
It is easy to install and rekey
Cons
Your package does not include batteries needed for operation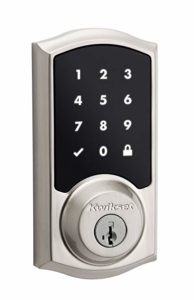 A good electronic deadbolt should not limit you when it comes to how you operate your door. By choosing smartcode 915, you get the chance to open your door without the need for keys and also rekey your lock without disassembling the entire unit. Any homeowner should take advantage of these capabilities. It also includes patented technology to prevent intruders from detecting your code from its touchscreen.
This bolt contains an auto-lock feature to help you lock your door automatically in case you forget. The inclusion of smartkey technology gives you the liberty of regulating who can gain access to your home. You can always change the locks every time you feel like your security system is compromised. The installation process is easy since you don't need to make new screw holes. Intruders may not bump the door easily since the manufactures include a Bump Guard to prevent bumping.
Pros
It is user-friendly
The sleek metal design makes it attractive
Cons
Weather conditions sometimes affect the performance of the touchscreen
Conclusion
Kwikset manufacturers make electronic deadbolts that are resistant to smudge attacks. They do this by including SecureScreen technology in their models. After comparing kwikset smartcode 916 vs. 915, I realized that most of the features were similar.
Since I had to pick one of them for my home, I chose Smartcode 916 as the winner since it offers more user-codes and enables wireless connectivity. By supporting Z-wave, I was able to use the lock to trigger my other devices such as the light and security camera. It made me feel completely safe and saved me from incurring additional electricity expenses.
FAQ
Help me define Kwikset smartcode?
This is a form of electronic deadbolt that offers both convenience and security. Kwikset is a company that offers such locks in the form of different models such as 915 and 916.
Are Kwikset electronic deadbolts suitable for my home?
Yes. Electronic deadbolts from Kwikset offer maximum security due to the inclusion of numerous features. They are designed for residential purposes.
How do I change my password code on kwikset smartcode locks?
Press the Program button once then enter a new code then press the lock button. Follow the same procedure thrice pressing the program button for you to program a new code for your lock.
Should I choose a smartcode that supports Z-wave technology or not?
It depends on your needs. If you want to control your lock remotely, choose one that supports Z-wave technology such as Kwikset smartcode 916. If this is not a priority, you may not need this feature.
What does the master code do?
It allows you to set a temporary password if you want someone to access your home only once. You can change the password as soon as they leave.