Consumers and builders alike prefer choosing Schlage deadbolts over other brands. The company produces different models with some distinguishing features. Our Schlage b50 vs. b60 will elaborate.
The high cost of living and unemployment rate forced me to start my own business. Though I am a degree holder, I was frustrated with applying for countless jobs that seemed futile. My love for fashion inspired me to open a retail store to sell women attire. This was not what I envisioned to do after school, but it laid food on my table, and I was starting to like it. As I worked hard to make ends meet, I knew that I had to secure my store properly to prevent any break-ins. This is what led me to my search for security locks. I was torn between choosing Schlage b50 and b60, so I compared them in the form of this table.
What are the differences between Schlage b50 and b60? How do they compare
| | | |
| --- | --- | --- |
| Name | Schlage B50 | Schlage B60 |
| Purpose | Commercial | Residential |
| Weight | 1.72 pounds | 1.5 pounds |
| Dimensions | 5.8 × 4.7 × 3.7 | 1×2.5×2.5 inches |
| Call to action | Check price | Check price |
Schlage b50 vs. b60-What are the main differences
Purpose
Both locks may come from the same company that is known to offer maximum security, but they are meant for different purposes. Schlage B50 is suitable for commercial buildings while b60 is ideal for residential use. B50 comes with solid construction, and its weight makes it resilient to attacks. B60 is a bit light since it is designed for light duty applications.
Installation
Though Schlage is known to offer user-friendly locks, you may need the help of a locksmith to install B50 on a door. Some users report that this lock has complicated steps and take time to fit it perfectly on a door. Schlage b60, on the other hand, takes a few minutes to install. You don't have to hire the services of an expert to install it. This can save you from incurring additional expenses. It also gives you smooth operation and prevents difficulties such as jamming.
Design
When you focus on the design of these two models, you realize that b60 has more aesthetic value compared to b50. It comes in a flashy design that makes it look good on your door. You can get a good finish to match with your door hardware. The satin nickel b60 matches most door handles. The design of Schlage b50 gives it a traditional look that may not appeal to everyone.
Features
Some of the elements in these two models are not similar. For instance, Schlage b50 includes an anti-pry shield which increases security standards. B60 does not include this feature but boost security through other ways such as using long and strong bolts and screws. B50 contains a metal dust box to boost its strength while b60 includes hardened steel to reinforce the lock.
Get a tough lock that you can install in your home or business store. Schlage B50 is not only a versatile option but also a strong deadbolt that accepts different Schlage cylinders available in the market. This deadbolt can fit in any standard door that has a thickness ranging from 34-44mm.
The numerous features such as the metal dust box on the deadbolt and streel reinforcer enhance its strength. The manufacturers equip it with an anti-pry shield that protects the latch from forced entry attacks. Its shield also comes in handy during installation.
It is reinforced with steel inserts that are hard to cut through. Like other Schlage models, b50 has a 6-pin tumbler design. While purchasing, you get the liberty to determine the type of finish you want for your lock. Your purchase comes with a limited warranty which prevents you from incurring additional expenses from replacing some parts.
Pros
It is a versatile lock
Can fit any standard door
Cons
Some people have raised issues on the installation process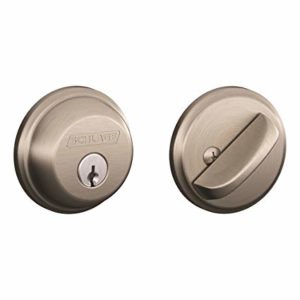 If you need a deadbolt that you can install without the services of a locksmith, you should consider Schlage B60. It makes use of the Snap-n-stay technology that make it easy to install. Most users report that they installed their locks within a few minutes. Schlage b60 is a single cylinder deadbolt that works with a key on the exterior and a thumb turn on the inner side. This mechanism increases the convenience for users and also gives your home extra security. You can easily get a secure grip due to the large thumb turn.
The bolt diameter of this model is also another impressive feature. It offers maximum resistance to prevent an intruder from accessing your home through kicking in the door. It is also reinforced with hardened steel to prevent attacks using other items such as a saw or a hammer. The knob of this lock is reversible making it suitable to use on left and right handed doors. Feel free to rekey the lock when you want to increase convenience. You also get a limited warranty, screws, strike plates and keys from your purchase.
Pros
Uses hardened steel
Includes the snap-n-stay mechanism
Cons
The instructions come in different languages which may be confusing to some users.
Conclusion
The company that manufacturers both of these deadbolts have been existing for decades. It aims at giving you high-quality deadbolts that provide maximum security to your home. These Schlage models meet high industry standards, and they have managed to stand the test of time. Though most of the features are similar, few of them are unique in each model to perform specific functions.
From comparing Schlage b50 vs. b60, we notice the similarities and differences between these two models. Schlage b60 wins due to its bolt diameter, ease in installation and hardened steel reinforcer. It is made from durable metal components that make it long lasting and strong. The inclusion of a thumb turn on the interior enhances security and makes it convenient for all. Choosing Schlage B60 guarantees you years of excellent service.
FAQ
How long does it take to install schlage locks?
Most locks from schlage come with an easy installation process. If you are not new to such locks, you can install it within a few minutes.
Can a schlage b60 lock fit any of my doors?
Yes. These locks come with an adjustable latch that make them suitable for any standard door that has a thickness which ranges from 34-44 mm.You can use the lock on your interior and exterior doors.
Can I get a schlage lock that matches the color of my door?
Yes. Schlage locks such as b50 and b60 come in different finishes such as satin, brass and, bronze. Feel free to choose a lock in the finish that complements your hardware.
Which features should I consider when choosing a good schlage lock for my house?
Before the design of a lock lures you, consider its strength and ability to offer resistance to different types of attacks. A good lock should also have durable components and it should not feel hollow.