In today's world, it is essential to protect your home and family from any security threat. What better way to do so than by purchasing the best electronic deadbolt available in the market.
Investing in a good home security system is vital in ensuring the safety of my family and home. I must ensure my children are safe while asleep in their rooms while unwanted guests are kept at bay when I am not home. As such, I found the best electronic deadbolt prevents unauthorized entry and secures my doors at all times. Deadbolts are known to withstand the most force or tampering in cases of forced entry, owing to their hard material.
While there are numerous deadbolt systems out there to choose from, here is a comprehensive list of the best electronic deadbolts to fit your budget and lifestyle needs.
Here is a table outline of the best electronic deadbolts I came across
| | | | | | |
| --- | --- | --- | --- | --- | --- |
| Model | Kwikset Deadbolt | Schlage Deadbolt | Yale deadbolt | Samsung Smart Universal Deadbolt | Lockstate Deadbolt |
| Compatibility | Kwikset keyway (KW1) | Alexa | Alexa | Smart Lock | Smart lock |
| Connectivity | Smart re-key technology | Z-wave technology | Has Z-wave technology | Z-wave technology | Connects directly to Wi-Fi |
| Material | metal | made of Metal | metal | Zinc, Aluminum, Polycarbonate | Zinc alloy with brushed steel finish |
| Weight | 1.5 pounds | 3.8 pounds | 4.3 pounds | 3.05 pounds | 5.7 pounds |
| Battery life and battery | 4AA alkaline batteries | has 4AA batteries included in package/ 8760 hours | 4AA batteries | Total of 4AA Alkaline batteries/ 12 months at ten uses per day | 4AA batteries/ 3-6 months depending on the heartbeat |
| | Check price | Check price | Check price | Check price | Check price |
Read more about the best electronic deadbolts for your front door
Are you looking for a reliable deadbolt which will not break your bank account? Kwikset electronic deadbolt is a high-tech and mobile security system with one-touch locking features. Due to its motorized nature, you can lock and unlock your door from virtually anywhere.
This smart keyless entry lock comes with remote control options due to its Smart lock feature. You may opt to lock and unlock it using a key when you are coming from outside or by using the turn button when you are coming from inside the house.
Storing up to 8 codes and one master security code, installation of this smart deadbolt is quite easy since it does not require any wiring. With your personalized access code or its traditional key entry option, you can easily access your home. Once you leave home and bang the front door, the auto-lock feature locks it within 30 seconds.
Pros
Made from top quality metal
An efficient design which allows easy installation
30 seconds auto-lock system
Tamper-resistant finish
Back-lit keypad for additional visibility at night
Cons
Noisy
The touchpad is not as easy to use as compared to other models
If you want to keep your home safe, the Schrage deadbolt is a must have. It has the highest possible security rating because of its piercing siren when someone tries to jimmy it. Following its smudge and fingerprint resistant touch screen, it is possible to connect it to a smart home hub by using Z-wave connect, allowing you to control it remotely and virtually.
This powerful deadbolt programs up to 30 codes. With its Schlage Connect feature, each family member can record an easy-to-remember 4-digit code. It is also quite simple to install because of its snap' and stay' design which holds the deadbolt tightly in place.
Pros
Easy installation
Fits standard door measurements and preparations
Can only use the key from outside
Protects home from different kinds of attacks due to its solid construction and finish
Adjustable Latch
Snap' and stay' design
Cons
Setup instructions are a bit vague
Best for doors with adjacent windows or glass
No biometric scanning option
Yale keyless deadbolt is arguably one of the best deadbolts available for modern security-conscious homeowners. With an intuitive built-in touch screen system, it is both easy to use and install on any standard door. For more natural visibility at night, the keypad features a backlight.
Apart from locking and unlocking your door, this electronic deadbolt stores up to 250 pin codes, has a built-in siren alarm and comes with a traditional back-up key. Z-wave technology enables this deadbolt to seamlessly integrate over 50 of the most popular home automation and security systems.
In the past, there were concerns a paperclip could pick the lock. The company quickly came to the rescue and corrected the issue. A repair kit remedies deadbolt locks made before 2015.
Pros
Extremely easy to set up, install and use
High-quality construction and finish
Plenty of additional tech-savvy features such as you can track it from your smartphone
Stylish good looks
Cons
Does not have a temporary code feature
No key fob for more convenience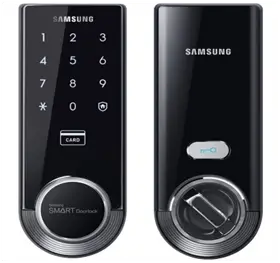 Samsung is an international industry leader when it comes to its products. This Samsung door lock is no different. Featuring a weatherproof and attractive finish, it is the perfect combination of security and style. Its hassle-free installation process is fit on almost any standard door without the use of additional screws or wiring.
With the ability to program up to 70 users, this modern piece of technology comes with a 70mm deadbolt, shock protection features, fire detector, alarm siren, and an auto-locking feature; among many other customizable features. You may spend a pretty penny while purchasing it, but it is worth it.
Pros
Modern and sleek design
Features a fire detector and an alarm system
Easy to install and set up
Low battery warning after every unlocking of the door
Long battery life
Water and dust resistant
Cons
Weak lock motor system
Requires perfect door alignment
May not work well for some home styles
If you are looking for commercial grade and heavy-duty deadbolts, look no further than the Lockstate deadbolt. Its premium quality leather finish and rock-solid construction is ideal for both outdoor and industrial applications.
Lockstate electronic keyless deadbolt performs smart code programming via iButton, enabling it to record entries and exits through your front door, retrieve audit trails when paired with additional software, and program one-time access user codes.
It also stores up to 800 iButton users and permanent user codes. Other features of this nifty deadbolt include lockout functionality, one-touch lock button, and a daylight savings mode.
Pros
Durable and weatherproof keypad with a stainless steel finish
Stores over 800 access codes
Loaded with numerous smart features
Best for commercial ecosystems
Features daylight savings mode
One-touch lock button
Cons
Does not scan for biometrics for more convenience
Not suitable for homeowners
Conclusion
You can never exercise enough safety when it comes to your family and your home. Whether you are looking for the most modern electronic deadbolt or one with the most convenience and control, the choices of finding the best electronic deadbolt are endless. For additional protection, you may choose to use a single or dual cylinder door lock together with any of the deadbolts reviewed above.
Schlage Z-wave Connect Deadbolt is my personal favorite because of its impenetrable features. From its metal construction to its keyless access option, this impressive deadbolt has a lot to offer homeowners who are obsessed with their home's security. If you want to control, monitor and secure your home from anywhere, this is the best electronic deadbolt for you.
A more tech-savvy option would be the Samsung smart universal deadbolt. From a fire detector to high-voltage shock protection, the features of this remarkable device are a handful. No wonder the high price!
FAQS
Can I set up my numerical code?
Create an access code for your deadbolt from your smartphone or tablet. Whether permanent or temporary, it is just that simple.
What happens when I forget my access code?
Some deadbolts come with a master key which you may use to open or lock your front door. The use of master combinations may also assist you if you happen to forget.
 Can I add a deadbolt to a sliding door?
Many deadbolts are easy to install on all types of doors. Directly consult your deadbolt service team about the installation if you are unsure.
Are all deadbolts keyless?
Electronic deadbolts come with traditional keys as a back-up, in case you forget your access code. Traditional deadbolts only use keys for access to your front door.
How secure are deadbolts?
Deadbolts are the most secure home and business locking systems as compared to other door lock systems. A unique and engaging device built into the deadbolt prevents unwanted entry as it forces you to engage the lock after it's shut.