The Nest x Yale Lock vs Schlage Sense Smart Deadbolt will give you more information on home security. The encrypted Bluetooth connection on the Schlage sense prevents authorised entry.
As a small business owner, I have to take up measures to ensure my upcoming brand is protected. Any minor loss could put my business in the red and cause me to collapse. I do not have any other sources of income and could experience some financial strain if I cannot secure my operations. This is why a secure locking system is always a high priority item for me. I was wary about a wave of crime that targeted local businesses in my area. The attackers' preferred style was nightly break-ins when there is little activity on the entire street. After my neighbour's business venture was breached, I had to act fast to secure my own.
What are the differences between Nest x Yale Lock and Schlage Sense Smart Deadbolt? How do they compare
| | | |
| --- | --- | --- |
| Comparison | Nest x  Yale lock | Schlage sense |
| Phone compatibility | iOS | iOS |
| Key fob | yes, 1 standard key included | No , 1 standard key included |
| Auto lock feature | YES | YES |
| Power supply | 4 AA batteries | 4 AA batteries |
| WI-FI adapter | Apple TV | Apple TV |
| | Check price | Check price |
Nest x Yale Lock vs Schlage Sense Smart Deadbolt – A Detailed Comparison
Design
The Schlage sense comes in three colors; matte black, aged bronze and satin nickel. You can get each model in a fancy Camelot trim or just a basic clean trim.  The keypad on the century trim is smudge resistant and protects from authorised access through pattern and code guessing.
The nest x Yale on the other hand is well designed and pretty easy to use. The lock is sleek, classy and very stylish. It is streamlined on the outside and a little bulky on the inside. It comes in oil rubbed bronze, satin nickel, and polished brass.
Performance and capability
Schlage sense works well with IOS devices that range from the 8.4 makes and higher. It can connect to your apple HomeKit using an I-pad and I-phone through Bluetooth. The HomeKit gives you a remote control access over the Schlage sense. You can assign a name to your door and the performance of the code is very reliable.
The nest x Yale on the other hand, does not integrate very well with the other smart home security systems. It will not work well if you use SmartThings HomeKit, Wink and some few others.
Security                               
How secure will your home be when you install the locks? The Schlage sense has ANSI/BHMA Grade 1 rating, which is the highest security rating. It also includes an alarm system that will ring when anyone tries to tamper with the system. The beeping system will sound during locking, unlocking and forced entry.
The nest connect allows you to link your lock to the internet and this gives you some immediate control. You can control the lock remotely; which means you can unlock or lock the home while you are far away or create address codes that can be used. If someone wants to get into the home, you can give them a code and remove it from the system once they are done with it.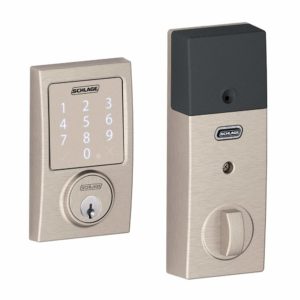 The Schlage sense has a mobile application that is easy to navigate, a simple design and very convenient features.  This smart lock can detect when a person unlocks the door with either the key or keypad. It also alerts you when there is a security risk at your door. How does the Schlage sense do this? It has some built in sirens that will activate if anyone tries t force their way into your home.
This lock also uses an encrypted Bluetooth connection to prevent any sort of authorized entry into your home. This means that the home invaders and hackers will need all your login information if they want some access to your home.  The mobile application has a simple layout; you can add and remove individuals at will. The smart app allows you to assign up to 30 other people codes using an email or text message.
To use the remote access feature on the Schlage sense, you should have apple TV or a WIFI add on within 30 feet of the house. This will let you take control of the lock when you are out of the Bluetooth range. It has a physical override; if you lose your key or the batteries you can use it to unlock.
Pros
Home Kit-compatible
You can give voice commands using siri
The keypad is sleek and smudge resistant
Cons
You must use Apple Tv for all the advanced features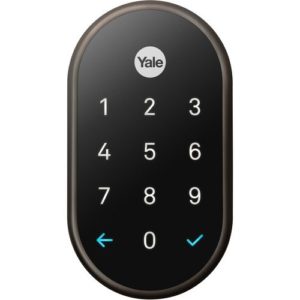 The first thing you notice about the Nest X Yale is that it does not have a keyhole. This means it relies solely on the key codes and mobile app controls in order to unlock. It comes with a WIFI adapter which helps you connect the smart lock to your phone for communication.  The nest Yale does not have a Bluetooth radio so you have to connect it to your smart phone using mobile app controls. The applications offer a double deal bundle of remote access and free app control
Security is tighter because nobody will try to pick the lock and cannot open it without a code. Common numbers are not allowed when setting up the codes for this smart lock. It refuses to generate some numbers, which prompts you to create more complex ones. You can generate some codes for other people. You can add up o 20 codes for your guests.
Pros
Google Assistant support
Easy to install
It is a user-friendly app
Cons
Expensive
Doesn't work with Nest security cameras
The bottom line
The Nest x Yale lock may be one of the best smart lock on the market for most people. The lock only supports IOS but is a Home kit enabled device. In case you own an android, you can buy an adapter separately. It will help you control the smart lock through Google Assistant and Amazon Alexa. The lock doesn't work directly with video doorbells but the Amazon Alexa has the ability to control the ring video and lock separately.
FAQS
Can I unlock the change without having to take out my phone?
You can unlock the schlang simply by touching the logo and keying in your special pass code. To lock the smart deadbolt, you will only need to touch the logo.
Does the Schlage sense come with a key?
The Schlage sense originally comes with a couple set of spare keys just in case you need to use them for emergencies. They can come in handy during a battery drain or malfunction.
Can anyone just pair the Bluetooth to your lock when they are close?
This is not possible unless you give the person some access to your apple homekit or Schlage app. Their device will be able to detect your lock's Bluetooth but they may not be able to connect.
Do you necessarily need a nest connect hub for each of your nest locks?
Even though one hub will cater to all your nest yale smartlock, it may cause an issue with the range. The conncetion should always be plugged in close to the lock which may make other less efficient.
Is the nest yale compatible with Samsung smart things?
Unfortunately, it does not connect with Samsung but works well with nest connect. The connection works on the WIFI network through your mobile phone.